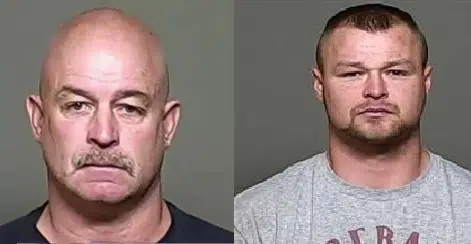 A father and son were taken into custody on Tuesday and have been charged with illegally shooting a trophy elk in November 2015.
Outagamie County sheriff's deputies arrested 54-year-old Edwin Singler and his son 26-year-old Ryan Singler at the request of Nevada game wardens after a more than year-long investigation.
The two men from New London have also been the subject of an investigation in Wisconsin last spring after a whitetail buck was shot out of season during a coyote hunt in the Shiocton area; that investigation is ongoing.
If convicted of the charges in Nevada, the Singlers face fines of up to $10,000, as well as a year in jail and the forfeiting of items related to their hunt, such as weapons and vehicles.
Both Edwin and Ryan Singler could also lose their hunting privileges in Nevada and Wisconsin, which are states that have agreed to the Wildlife Violator Compact, an agreement aimed to prevent poaching.
The two men were released Tuesday after posting a $2,000 bond. They are scheduled to be arraigned in court in Nevada on June 6.