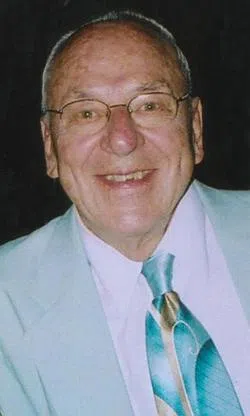 Wallace R. "Wally" Heling, age 83, of Shawano, passed away on Sunday April 30, 2017.
First and foremost, he was a man who loved his family, had a passion for life, was a true gentleman, and had a genuinely close in relationship with his Lord and Savior. He was very popular, loved being involved, and was a natural leader and role model.  Wally developed many lifelong relationships with all whom he came in contact with.  Throughout his life he overcame the many challenges he faced with grace, courage and humor based on his faith in God and his amazing capacity to those around him.  He found the positive in the worst tragedies and had fun doing it.  He always had a striking appearance with his strong presence, a wonderful personality and an infectious sense of humor and laughter.  He relished providing everyone with the unexpected.  Very generous with his time and talents, Wally learned that making a difference in other's lives was rewarding for all involved, he truly made other's lives better and tried to make people feel great.  Wally was a dedicated, loving person for his family, community and church.  We are all blessed to have had him in our lives and he will be deeply missed by all.  Wally was and incredibly loving husband, father, son, brother and sincere friend.  He left his wife and children with memories so wonderful and vivid, they will forever be grateful for all that he has accomplished during his earthly life.
Wally was united in marriage to Charlene J. Felts on July 6, 1974 at St. James Church in Shawano. He worked as a produce manager for the Red Owl in Shawano for 10 years and for Little Rapids Corporation for 34 years, retiring on February 15, 1998.  Wally was the past Chairman of AAL, head of the AARP card party at the civic center, communication director for Thrivent Financial and involved in the commission on aging for the city of Shawano and served on the Senior Citizens Commission.  He was a devoted member of St. John's Lutheran Church-Hermansfort and sexton of the church cemetery.   Wally raised toy poodles for over 34 years, enjoyed gardening and flowers and was a devoted father to two beautiful girls.
Wally is survived by: his loving wife, Charlene; two daughters, Luann (Wayne) Tuma and Cheryl Heling; five grandchildren, Katie (Johan) Migral, Kristine Tuma, Kraig Tuma, Jenna Tuma and David Heling; one great-grandson, Dominic Lee Prince; as well as four brothers-in-law, Lawrence Krause, Garry Felts, John (Lynn) Felts and Clarence Krueger, nieces, nephews, other relatives and numerous friends.
He was preceded in death by his parents; three brother, Lyle, Roger and Donald; as well as one sister, Violet Krause.
Funeral services for Wally will be held at 11:00 am on Saturday, May 6, 2017 at St. John's Lutheran Church-Hermansfort with Rev. Steve Conradt officiating. Burial will be in the church cemetery.  Visitation will be held at Swedberg Funeral Home in Shawano from 4:00 – 8:00 pm on Friday, May 5, 2017 and again at the church on Saturday from 10:00 am until the time of the service.
The family wishes to thank Cheryl for her many years of taking care of Wally as well as special thanks to Rev. Steve Conradt for his weekly visits, Rev. Rolland Golz, Rev. Travis Kleinschmidt, Don and Joann Bublitz, Fred and Marion Pape and numerous other people for their prayers, care, help and phone calls. This was very much appreciated.