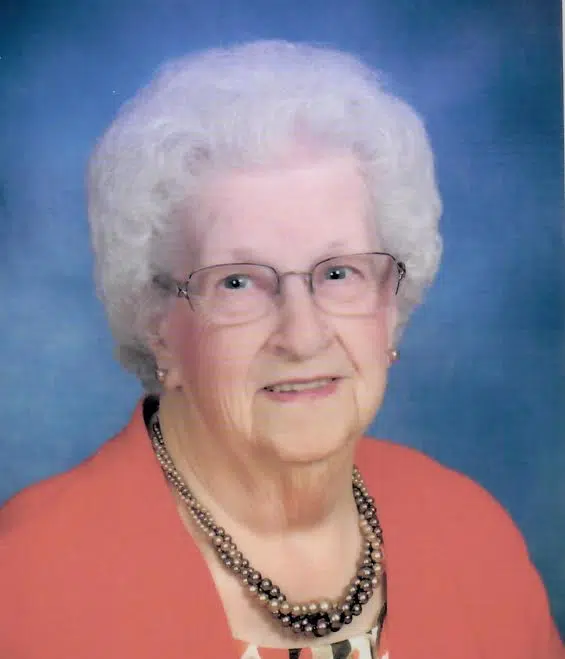 Violet J. Conradt, age 88, of Marion passed away Saturday, April 29, 2017 at ThedaCare Regional Medical Center, Neenah.
 The former Violet Janice Vollmer was born on October 16, 1928 in Tigerton to Fred and Esther (Seefeldt) Vollmer.  As a young lady she worked several years in the office at FWD Corporation in Clintonville.  Violet was united in marriage on June 15, 1946 to Marlin "Butch" Conradt in Tigerton.  The couple dairy farmed in the Town of Larrabee, Waupaca County, and she worked side-by-side with her husband for many years.  Butch preceded her in death on March 6, 1999.
 Violet was a longtime member of St. John Lutheran Church, Marion, where she served countless hours with the Ladies Aide and volunteered as a Sunday School Teacher.  Violet was also a member of the Marion Homemakers and enjoyed bowling, playing for many years on Tuesday mornings in Marion with the Lilies of the Valley.  Every Christmas she liked to bake five different kinds of cookies for family and friends.  Another passion of Violet's was sharing quality time with the Ladies of the Roundtable most mornings for coffee at Steve & Mary's Cafe in Marion catching up on local happens.  Violet was always on the go whether it was playing sheepshead or traveling around the country to see the sites.  She will be remembered most for her contagious smile and wonderful sense of humor.
 Survivors include three children, Lonnie (Diane) Conradt of Clintonville, Thomas (Susan) Conradt of Clintonville, and Nancy Christensen of Grand Chute.  There are 9 grandchildren, Todd (Tracy) Conradt, Tammy (Paul) Keller, Tim (Dayna) Conradt, Troy (Ashley) Conradt, Joey (Katie) Conradt, Cassie (Brad) Lorge, Angela (Eric) Hacker, Jennifer (George) Lehl, and Sarah (Craig) Roerick.  There are 21 great grandchildren:  Seth, Tyler, Cody, Caleb, Avery, Alexis, Connor, Trentin, Anna, Alex, Parker, Logan, Kahlee, BreAnna, Madison, EmaLeigh, Ellie, Alayna, Bryce, Josie, and Trevor.  There is a brother, Jim (Sandy) Vollmer of Tigerton, a sister, Lee Ila Zitzke of Seymour, and a sister-in-law, Doris Vollmer of Clintonville.  She is further survived by many nieces, nephews, other and friends.  Violet is preceded in death by her parents, her husband Butch; three sisters Luella Steinke, LaVera Tulberg, and Bonnie Sanderfoot; one brother Martin Vollmer; and several brothers-in-law.
 Funeral Service will be held on Wednesday, May 3rd at 11:00 AM at St. John Lutheran Church, Marion.  Rev. Bradley Dokken will officiate and burial will be at Greenleaf Cemetery, Marion.  Friends may call on Tuesday from 5:00 – 8:00 PM at Beil-Didier Funeral Home, Clintonville, and on Wednesday from 10:00 AM until time of service at the church.  In lieu of flowers, memorials are preferred to St. John Lutheran Church.
 The family wishes to thank the doctors and nurses at ThedaCare Regional Medical Center, Neenah, for the compassionate care given to mom.  We also want to thank all her dear friends in the Marion area who loved and watched out for mom.