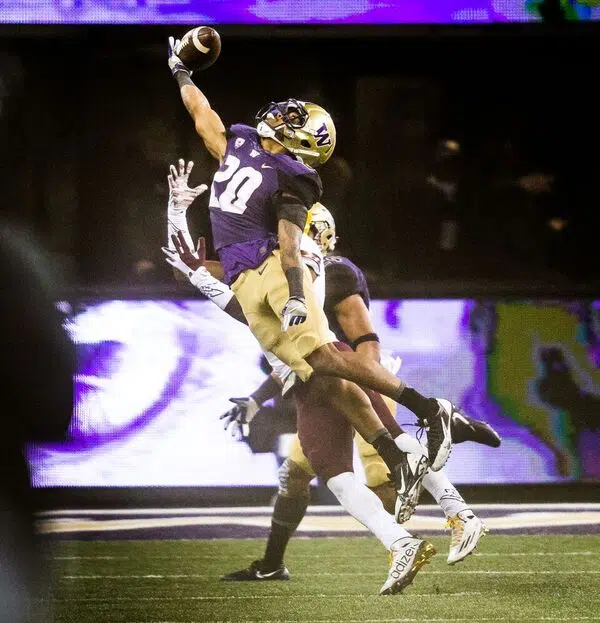 The Green Bay Packers second round was an indication that one aspect of their game needed a major face lift. The Packers used a pair of second round draft picks to improve their secondary.
With the 33rd pick and first overall pick of the second round, the packers selected cornerback Kevin King of Washington. King fulfills two aspects for the Packer defense, speed and height. The Washington's versatile corner is 6-3, 200 pounds and clocked a 4.43 40-yard time at the combine.
Director of Football Operations Eliot Wolf said they wanted him and got him.
"It's always good to add guys with size" said Wolf. "The unique thing about him is his ability to bend."
King spent some time as a safety and cornerback, and Wolf said they love who versatile he is.
Wolf said the Packers did get many phone calls throughout the day, as their pick was high in demand.
"Nobody really came and gave us what we felt was good value, and it might have cost us a player, and Kevin is one we did not want to lose. He is one that we might have considered last night."
The Packers fell that they may have landed an impact player.
"We don't just give jobs away, and we will have to compete with the guys we have, but we think he has a lot of talent. We have not had a guy with his size at this position before. We like to think we helped our team, but I can't say we solved anything."
King said he stayed relaxed after not getting picked in the first round, but said it was worth the wait.
"You always here about Lambeau Field and the fans and I am looking forward to being part of it. Anything I can do to help it what I am here to do."
As far as his versatility, King said it helps.
"Now I know what everyone is doing, so I know what is going on with the safety position as a play corner, and my transition was pretty easy."
With the 61st pick in the second round, the Packers selected Strong Safety Josh Jones of North Carolina State. Jones in 6-1, 220 and is also one that can add speed to the secondary. Jones adds more speed with a 4.40 40-yard dash time.
"I was so filled with joy and it is just such a blessing" said Jones. "My meeting with the Packers went great, but you never know what might happen at the draft. Whichever way I can help the team, I am ready to do."
The Packers may have filled two needs with one pick with Jones with his ability to play some Linebacker in the box.
"Without a doubt, I can do that for the team and I promise you, my best football is ahead of me. Every player has something to work on and am ready to learn."
Jones said he has been watching Ha-Ha Clinton Dix quite a bit, and said he is one he wants to learn from.
Josh Jones had 8 interceptions in college, which is a rather high total for a Strong Safety.
Director of Player Personnel Brian Gutekunst said Jones is a player that jumped off the film.
"He can do a lot of things and shows so much coverage ability" said Gutekunst. The Packers were able to add some speed to the defense, and Gutekunst said that was a focus.
"It is the way the game is going" said Gutekunst. "We have always wanted to get faster."
With the teams only pick in the 3rd round, the Packers selected Defensive Lineman Montravius Adams of Auburn. The Packers addressed another need. Adams is big and quick with 151 tackles in 52 games. When the Packers called Adams, he just got done helping deliver his news son Montravius Jr. Adams adds to the speed factor that the Packers were looking for, with a 4.87 40-yard dash time.