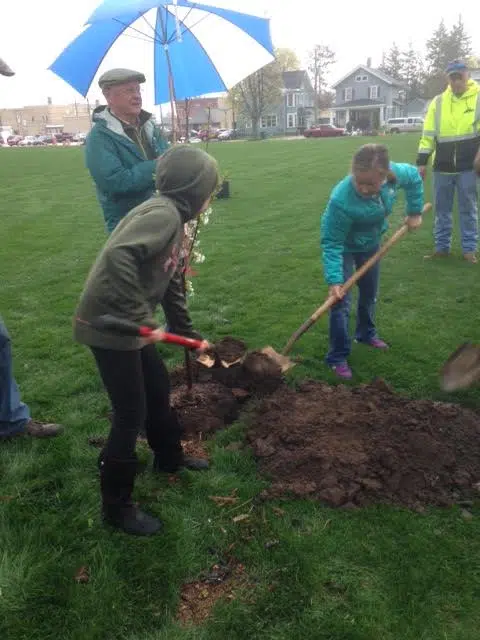 While the designated Arbor Day celebration for most communities will be held on Friday, April 28, the city of Shawano hosted their celebration in Franklin Park Wednesday morning. Although the rain put a damper on the weather, Shawano Mayor Jeanne Cronce acknowledged a strong turnout from local students.
"I'd just like to say, it's so good to see so many fourth graders here to observer Arbor Day," Mayor Cronce said, addressing the crowd. "I'm glad to see all of you brought your umbrellas because we do need the rain when we do plant."
Fourth grade students represented Olga Brenner, Sacred Heart, and St. James Schools in Shawano.
Tracy Salisbury, Regional Urban Forestry Coordinator with the Wisconsin DNR, presented the city with the Tree City USA Award.
"This is the 23rd year that the city has received the award," Salisbury said. "This is a national award. There's over 190 tree cities in Wisconsin, and the city must meet four standards to receive this award."
Salisbury also presented the city with The Growth Award, which means the city has gone above and beyond the Tree City Award. It was the city's sixth year winning the award.
One tree was planted in Franklin Park during the ceremony. Each fourth-grade student in the city, including those not in attendance, will receive a 2-year-old White Pine seedling to plant.
"Planting a tree is a long-term proposition, said Bob Dumke of the Tree Advisory Committee. "Those generally will outlive the individual. Trees really need to be planned and planted for the long-term and that's where school kids can be so influential. They can come back with their children and say 'I planted that tree and now it's 50-feet tall.'"
Chairman of the Shawano Tree Advisory Committee, Bill Erdmann, presented Scott Paiser, of Paiser's Oakhaven in Shawano, with one of the 2017 Nature's Friend Awards.
The other award was presented to Gerry Stephens, a former board member of the Tree Advisory Committee.