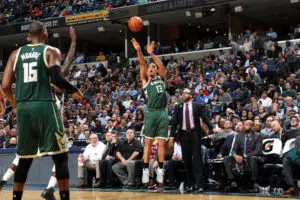 Story by WRN/Bill Scott
Norman Powell poured in 25 points to lead the Toronto Raptors to a game 5, 118-93 win over the Milwaukee Bucks in the NBA's Eastern Conference playoffs on Monday night.
The Raptors took a 3-2 series lead with game 6 back in Milwaukee on Thursday night.  It's a must win for the Bucks.
Powell hit all four of his three pointers, leading six Raptors in double figures.  Serge Ibaka added 19 points and DeMar DeRozan 18 for Toronto.
Giannis Antetokounmpo scored a playoff career-high 30 points to lead the Bucks.  Rookie guard Malcolm Brogdon added 19 points on 7 of 11 from the field and 5 of 7 from three-point distance.
Toronto shot 57.7% from the field (41 of 71) and made 12 of their 27 three-point attempts.
Photo Courtesy WRN: File Photo: Malcolm Brogdon (Photo by Joe Murphy/NBAE via Getty Images)