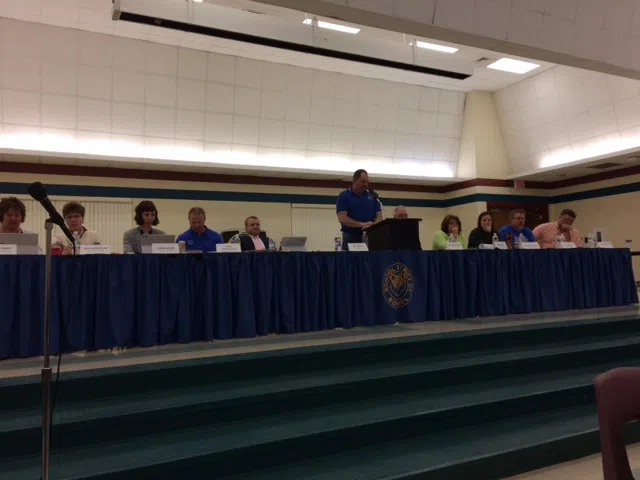 The Bonduel School Board officially made $276,000 in budget cuts, but did not make a change in the music department, which was originally proposed. Board members heard over a hour of public comments regarding cuts and a possible referendum, but much of the focus was on the proposal of changing the music department. The Board was also able to avoid any layoffs due to retirements and resignations.
"Three elementary teachers either resigned or retired, and it had nothing to do with the recent staffing concerns" said District Administrator Patrick Rau. "Through that, we were able to save those individuals who were potential layoffs." The board still did 4.2 FTE cuts, but those were position cuts, rather than staff cuts.
Cuts included
-1 Full-Time Program Support Position
– 0.2 FTE Speech and Language Pathologist Position
– 3 Elementary Teacher Positions
The reduction of the number of teachers at the Elementary Grade level will increase class size, but it does keep everyone employed.
After hearing concerns of workload, the Board decided to hold off on a decision on how they will replace the Elementary Principal Position, and will consider options of replacing retiring Elementary Principal Peggy Jones.. The Board has not made a decision on how they will cover that position.
The Board decided to avoid cutting $95,000 of proposed cuts from last weeks meeting.
Items not included in the budget cuts were a half time Music Teacher position and School Lunch for High School and Middle School. Rau said they looked at the numbers, and cutting lunch does not need to be done at this time. "Last year we had an $80,000 deficit and the year before was $75,000" said Rau. "We are generating more revenue even though we have less students and we have done that by raising our prices enough to generate more revenue, and some of our costs are down. "We are assuming about a $20,000 or $30,000 deficit and while that is not good, the money we could lose and what we could lose as a whole by not offering lunch, it is not worth going down that road."
Cuts that were approved included the elimination of the in-town bus route and changing 4K to a every other day for a full day schedule. The Board approved of adding Athletic Fees, Building usage fees and Fitness Center fees to a dollar amount that would get them to about $28,000 of additional revenue.
The Board decided to avoid eliminating the 6th Grade and C-Team Athletics.
"It sounds like you guys want to back to referendum, and we heard that the last two weeks" said School Board President Jay Krull.
"We will take that issue up at a special meeting next Monday and will decide if that is what we are going to do."
By not having to do layoffs and answering the concerns of many in the community, Rau said it is a good result, but the bottom line is that the district is still running on a large deficit and by not making those cuts, it does leave some concerns.
"The Human Resource side of me is feeling better, but I still have some concerns as business manager" said Rau.