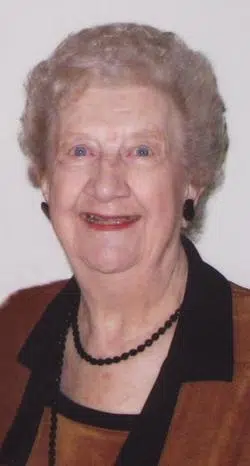 Ruth G. Polkowski Gutt, age 94, of Shawano, passed away on Tuesday, March 7, 2017 at Wisconsin Veteran's Home in King. Ruth was born in Evanston, IL on June 1, 1922, the daughter of the late Gustave and Sophie (Schroeder) Meier.  She graduated from Evanston High School and went on to work at Illinois Bell Telephone and later at Baxter Labs.  On February 26, 1948, Ruth was united in marriage to Frank Polkowski at Bethlehem Church in Evanston, IL.  Ruth and Frank retired in 1982 and moved to Shawano. Frank preceded her in death on August 26, 1994.  On July 29, 2005, Ruth was united in marriage to Victor Gutt at St. James Lutheran Church in Shawano.  She was a member of Divine Savior Lutheran Church, Lutheran Women's Mission League, Tabitha, AARP, Golden Agers, the Red Hatters, three different card clubs, American Legion Auxiliary and Disabled Veterans Auxiliary. She also volunteered for hospice for 10 years and was a 50 year member of Home Maker's County.  Ruth enjoyed crafting and spending time with her family.  She loved traveling, visiting Europe three times and traveling to 10 different countries.
Ruth is survived by: three children, Frank (Peggy) Polkowski, Jr. of Shawano, James "Jim" (Carol) Polkowski of Cushing, MN and Kathryn (Dan) Fillenworth of Greenwood, IN; two step-children, Dan (Carol) Gutt of Ham Lake, MN and Bonnie (Larry) Grosskopf of Wisconsin Rapids; six grandchildren; three great grandchildren with three more on the way; four step-grandchildren; and three step great-grandchildren.  She is further survived by numerous nieces, nephews, other relatives and friends.
She was preceded in death by: her first husband, Frank Polkowski, Sr.; her parents, Gustave and Sophie; three brothers, Raymond, Karl and Henry Meier; and four sisters, Marion Kaddatz, Elizabeth Schnell, Harriet Zickert and Lillian Meier.
A memorial service for Ruth will be held at 10:30 am on Saturday, April 22, 2017 at Divine Savior Lutheran Church in Shawano with Rev. Paul Kuehn officiating. Visitation will be at the church from 9:00 am until the time of the service.  Inurnment will be in Woodlawn Cemetery in Shawano.  Memorials may be directed to Wolf River Lutheran High School or Divine Savior Lutheran Church in Ruth's name.