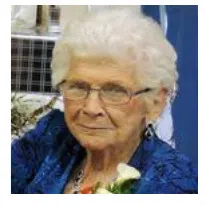 Ardis L. Fournier, age 92, of Marion passed away Monday, April 3, 2017 at St. Joseph Residence, New London.
The former Ardis Leola Malueg was born on August 28, 1924 to Emil and Lydia (Tornow) Malueg in the Town of Wyoming, Waupaca County.  She was baptized and confirmed at St. John Lutheran Church, Tigerton, and was united in marriage to Leonard E. Fournier in the same church on August 4, 1940.  The couple farmed in the Town of Wyoming until 1960 when they moved to a farm in the Town of Dupont.  The couple retired in 1984 and in 1990 settled in Marion to a home on the pond.  Her husband Len preceded her in death on May 26, 2000.
Ardis was a partner in every aspect of their marriage.  She did field work, milked cows, and still found time to be a talented seamstress (making wedding dresses and new outfits for her daughters for every special occasion).  Ardis continued doing all sorts of crafts until the last several years robbed her of her eye sight to do small needlework.  She belonged to the "Klick Klack" Club of Big Falls and joined the Dupont Ladies Club when they moved to the Town of Dupont.  She was a longtime member of St. John Lutheran Church, Marion, where she volunteered often with the Ladies Aide helping with funeral luncheons and all sorts of other projects. Ardis also freely gave of herself for the "Meals-on-Wheels" program at the Marion Senior Center.  She will be remembered as a person who could never say "no" when asked to help in any capacity.  Ardis was a wonderful mother, grandmother, and great grandmother.  She enjoyed all sports activities in Marion – especially when her grandchildren and great grandkids were playing and rarely missed a game.
Survivors include two daughters, Rosie (Jack) Bazile of Tigerton and Dawn (Steve) Verg of Caroline.  There are four grandchildren, Shawn (Kathy) Bazile, Shane (Amy) Bazile, Wendy (Lee) Hangartner, and Lee (fiancée Kayla) Verg.  There are three great grandchildren, Dakota Joe, Cheyenne Lee, and Bridget Rose Bazile.  There is one sister, Joyce (Larry) Krolow of Tigerton; two brothers, Kenneth and Gerald (Sonia) Malueg of Caroline; and three sisters-in-law, Delores Fournier of Tigerton, Mary Jo Malueg of Caroline, and Violet Roloff of Shawano.  She is further survived by several nieces, nephews, other relatives and friends.  There are three special nieces, Debbie (who was a rock that mom could lean on), Diane (who considered Ardis as a second mom), and Kathy Davids (who never missed a chance to give mom hugs).
Ardis was preceded in death by her parents, her husband Len, two brothers Donald and Albert Malueg, and four sisters Germaine (Cleon) Winter, Louella (Robert) Prey, Lydia (Raymond) Griffith, and June Steffek.  She is further preceded by two sisters-in-law, Lois Malueg and June Fournier; and three brothers-in-law, Norman and Louis Fournier and Earl Roloff.
Funeral Service will be held on Friday, April 7th at 11:00 AM at St. John Lutheran Church, Marion.  Rev. Bradley Dokken will officiate and burial will follow at Roseland Cemetery – Town of Dupont.  Friends may call on Friday from 9:00 AM until time of service at the church.  The Beil-Didier Funeral Home, Marion, is assisting the family.