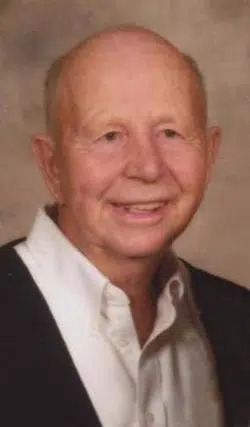 Clifford Lavern "Cliff" Elertson, age 83, of Shawano, passed away on Tuesday, February 28, 2017 in Appleton. Cliff was born in Livingston, WI on December 31, 1933, the son of the late Harry M. and Nettie (Hogan) Elertson.  On November 8, 1958, Cliff was united in marriage to Eileen Mathison at Jerusalem Lutheran Church in Lunds.  Teaching himself to play guitar, Cliff played over 60 years with numerous groups including Country Partners as well as playing for various community events. He enjoyed singing with his grandchildren and at local nursing homes. He was a former member of Jerusalem Lutheran Church and an active member of Zion Lutheran Church in Shawano, where he enjoyed singing in the church.  You could often find Cliff working at the town hall during an election or woodworking in his garage.
Cliff is survived by: his wife, Eileen; four sons, Steve (Renee) Elertson of Shawano, Timothy Elertson of Atlanta, Rodney (Joyce) Elertson of Shawano and Aaron Elertson of Shawano; eight grandchildren, Tanya, Paul, Kevin, Andrew, Kassandra, Victoria, Hannah, Jacob; four great-grandchildren, Faith, Kendra, Layla and Landon; one brother, Doug (Shirley) Elertson of Neenah; one sister-in-law, Sarah Elertson; and one brother-in-law, Roger "Buddy" Mathison.
He was preceded in death by: one son, Daniel; his parents; and two brothers, Rodney and Harold Elertson.
Funeral services will be held at 11:00 am on Saturday, March 4, 2017 at Zion Lutheran Church in Shawano with Rev. Scott Ludford officiating. Burial will be in Jerusalem Cemetery in Lunds.  Visitation will be held at Swedberg Funeral Home in Shawano on Friday, March 3, 2017 from 4:00 – 8:00 pm and again at the church on Saturday from 10:00 am until the time of the service.  In lieu of flowers, a memorial fund has been established for Zion Lutheran Church or Jerusalem Lutheran Church.