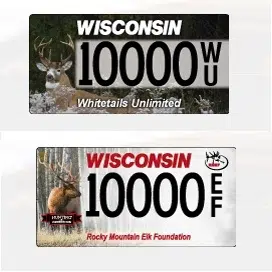 Wisconsin vehicle owners will now have the opportunity to choose two new specialty license plates, recently issued by the Department of Transportation.
The new designs are sponsored by Whitetails Unlimited and the Rocky Mountain Elk Foundation and are made available beginning today. The plates cost $15 for an issuance fee for non-personalized plates, but can be made personalized for an additional $15. There's also an annual tax-deductible donation upon each registration renewal.
Funds generated from these plates will go towards the organizations' conservancy goals.