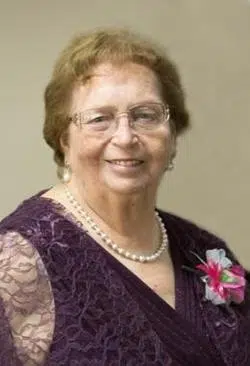 Joyce May (Peterson) Souba, age 80, of Shawano, passed away on Wednesday, January 25, 2017 in Marshfield. Born in Spring Valley, WI on May 9, 1936 she is the daughter of the late Carl A. and Mabel A. (Grape) Peterson.  She graduated from Spring Valley High School in 1954 and graduated from Minneapolis Business College.  After college, she worked as a Treasurer at Pillsbury Mills in Minneapolis and bookkeeper for Theisen's Grocery Store.  On April 25, 1959, Joyce was united in marriage to her soulmate, Frederick J. Souba at Spring Lake Lutheran Church in Spring Valley, WI.  She took time off of work to raise their five children and returned to work in 1972 as a teacher's assistant at Advance School, Lincoln School and Olga Brener before retiring in 1989.  She was a member of the Wisconsin Education Retirement Teachers Association, Shawano Learn-A-Lot Homemakers and the American Legion Auxiliary for over 50 years.  Joyce loved traveling, attending Fred's Navy reunions, playing cards and games. She spent countless hours volunteering at Maple Lane and making greeting cards and bookmarks for King Veterans Home.  Joyce received the Carol award for outstanding leadership from the Shawano Community Foundation.  More than anything, she loved to spend time with her children and grandchildren.
Joyce will be deeply missed by her husband of 57 years, Fred, who loved her dearly; their five children, Susan Souba of Blaine, MN, Ann (Randy) Steffen of Shawano, Carl (Beth) Souba of Ellicott City, MD, Pamela (Steven) Schmidt of Marshfield, and Carol (Jeff) Smiles of Manawa; grandchildren, Scott (Rachel Tennyson) Steffen, Ryan Steffen, Matthew (Erin) Schmidt, Andrea (Shawn) Nelson, Maria Smiles, Jessica Smiles, Lexi Smiles, Benjamin Souba and Hannah Souba; one brother, Gary L. (Roxann) Peterson of Spring Valley, WI; as well as numerous nieces, nephews, other relatives and friends.
She was preceded in death by her parents and one brother Richard J. (Agnes) Peterson.
Funeral services for Joyce will be held at 11:00 am on Thursday, February 2, 2017 at Zion Lutheran Church in Shawano with Pastor Lois Graper officiating. Burial will be in the Woodlawn Cemetery. Visitation will be held at Swedberg Funeral Home on Wednesday, February 1, 2017 from 4:00 – 8:00 pm and again at the church from 10:00 am until the time of the service. A memorial fund is being established.