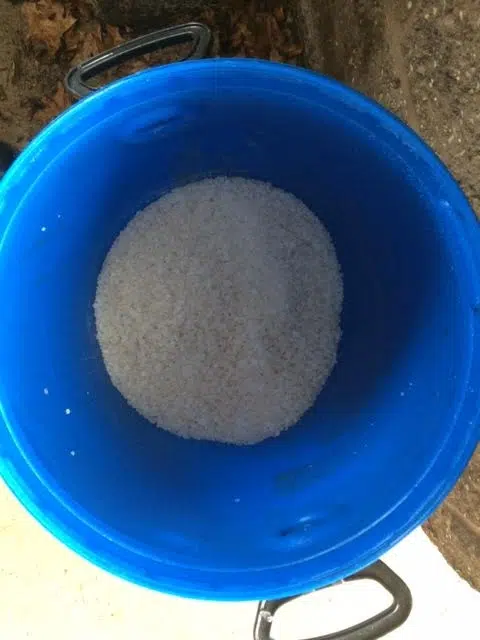 Due to the icy conditions from the winter weather throughout the area, it has many people venturing out in hopes to stock up on the necessary amount of salt for sidewalks and driveways. With the high demand however, it has many local retailers nearly cleaned out of their salt inventory.
At Qualheim's TrueValue, Diane Hensel explains that they've seen all of their salt quantities fly out of the door since they opened at 7 a.m. Tuesday morning.
"Fifty-pound bags, 20-pound bags, 10-pound bangs, 10-pound containers, since the store opened [Tuesday] we sold over 23,000 pounds of salt," said Hensel.
Hensel says they likely won't be restocked for a couple of days and recommends to those in need of salt to pick up sooner rather than later because they've been receiving requests across the region.
"We probably won't [have more salt] until Thursday morning," Hensel admitted. "We have people calling from Green Bay. They can't find any in Green Bay, so they're coming to Shawano to get salt."
Joan Cerveny is the Manager at Auto Prep Center in Shawano, and says supplies have been selling all day, and their reinforcements could still be days away.
"Salt has been crazy, I'm just about out," said Cerveny of the rush Tuesday. "I order on Thursday and Friday morning it's here."
Cerveny states that with regular salt supplies running low, it's forcing some to get creative.
"Now they're using Culligan salt for water softeners and they're using that on their driveways," explained Cerveny. "It's probably not safe for your cement, but it works real well and it works real fast."
In total, Auto Prep Center has sold over half of their 40-pound water softener salt, which she says should be used as a last resort, something that many area businesses have relied upon Tuessday
For those not fortunate enough to stack up on salts supplies should they run out, Diane Hensel recommends resorting to using sand if need be.
"A lot of people use sand, if they have sand in their area that could work, but people don't like tracking it through their houses too," said Hensel. "We have maybe 50 bags left of that."
Local officials warn that slushy conditions could freeze again overnight, causing even more of a hassle for Wednesday, but should see a relief later this week.