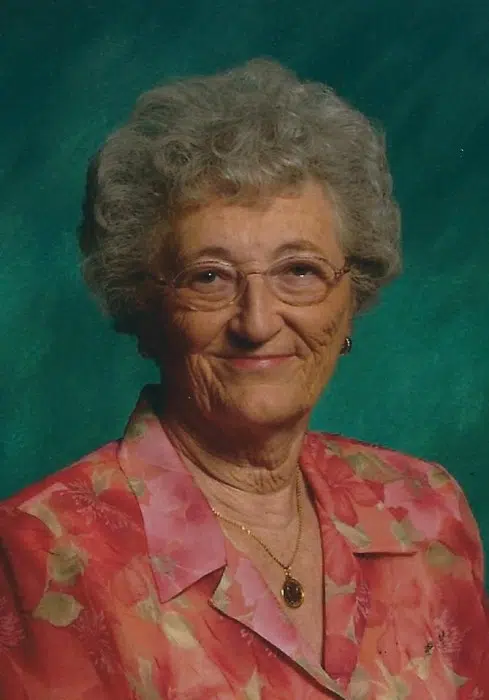 Allene "Allie" M. Heideman, age 91 of Appleton, formerly of Clintonville passed away peacefully Sunday morning, November 27, 2016 at Heartwood Homes Senior Living Center in Appleton.
Allie was born on February 2, 1925 in Tustin, WI as the daughter of the late George and Irma (Balsley) Pomrening. She spent most of her younger years in Fond du Lac, WI. Allie then graduated from high school in Downers Grove, IL and attended Rockford College in Rockford, IL. Allie married Luther Heideman on December 28, 1949 at the Emanuel Lutheran Church in New London. The couple resided on the ancestral Heideman Homestead Farm in the Township of Union, Waupaca County which Luther owned and operated for 35 years.  In 1984 they retired and moved to N. Clinton Avenue in Clintonville. They spent their summers for 20 years at their cottage on the Chain of Lakes in Waupaca and their winters were spent traveling or at Old Bridge Park in Fort Myers, FL. They were members of St. Mark's Lutheran Church in Symco for many years and later St. Martin Lutheran Church in Clintonville. Allie enjoyed teaching Sunday School, participating in Ladies Aid and Bible Study, being a 4-H leader and was also a leader in the Waupaca County Extension Homemakers for many years. Her interests included quilting, sewing, rosemaling, playing cards, and reading.
Survivors include:
Daughters: Sue (Tim) Heideman-Clough, Waupaca
Diane (Steve) Lenz, Green Bay
Sharon Stabe, Neenah
Son: David Heideman, Clintonville
Grandchildren: Stephanie Lenz and Andy (Trudy) Clough.
Great-Grandchildren: Matthew, Elizabeth, & Nicholas Clough.
Sister-in-Law: Betty Heideman, Clintonville.
Also nieces & nephews.
Allie was preceded in death by her parents, husband Luther, grandson Christopher Lenz, daughter-in-law Amy Heideman, son-in-law Marc Stabe, and brothers-in-law Ed Heideman & Ken (Marlene) Heideman.
Allie's funeral service will be held Tuesday, November 29, 2016 at 12 PM at the St. Martin Lutheran Church in Clintonville with Rev. Christian Burg officiating. Interment will follow at the Graceland Cemetery also in Clintonville. Friends may call at the church on Tuesday from 11 AM until the time of the service. Memorials may be made to St. Mark's Lutheran Church in Symco or to St. Martin Lutheran Church in Clintonville. The Eberhardt-Stevenson Funeral Home & Crematory of Clintonville is assisting her family. www.eberhardtstevenson.com