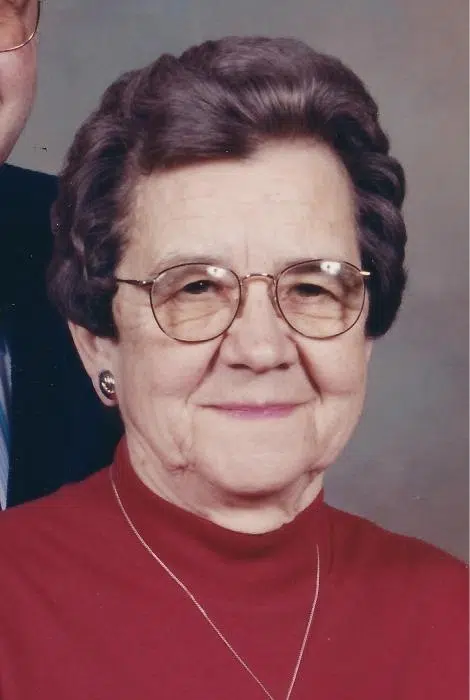 LouVera I. Mavis, age 88 of Marion, passed away Sunday, November 20, 2016 at Pine Manor Healthcare Center, Embarrass.
LouVera Irene Mavis was born September 22, 1928 in Wittenberg, the daughter of the late Alfred and Selma (Rosenthal) Hartwig. She spent her early years in the Wittenberg, Tigerton and Marion areas and graduated from Marion High School in 1946.  LouVera was united in marriage to Elmer Mavis on June 14, 1947 in Menominee, MI. Later they moved back to the Marion area where they lived the rest of their lives.  She was a homemaker and worked as a bookkeeper at Zigs Motel in Marion for 30 years.  She
was a member of Zion Lutheran Church, Caroline. She enjoyed doing crafts, crocheting and going to the Marion Senior Center.
Survivors include her son: David (Marsha) Mavis, Jemez Springs, NM
A half-sister: LaVonn Larsen, Costa Mesa, CA
Sisters-in-law: Jo An Voigt, Jackson, MI & Gladys Woelffer, Marshall, WI.
Also nieces & nephews
She was preceded in death by her husband of 62 years, Elmer; her parents; half-brothers,
William, Arno and Gordon Voigt; sisters-in-law, Florence Mavis and Mildred
Pockat; brothers-in-law Art Mavis, Robert Woelffer & Milton Pockat.
Funeral services will be held 2 PM Monday, November 28, 2016 at the Eberhardt-Stevenson Funeral Home & Crematory, Marion with the Rev. Bradley Dokken officiating. Interment will follow at Greenleaf Cemetery, Marion.
Friends may call on Monday at the funeral home from 12 PM until the time of the service.
The Eberhardt-Stevenson Funeral Home & Crematory, Marion is assisting her family.
An online guestbook is available at eberhardtstevenson.com.