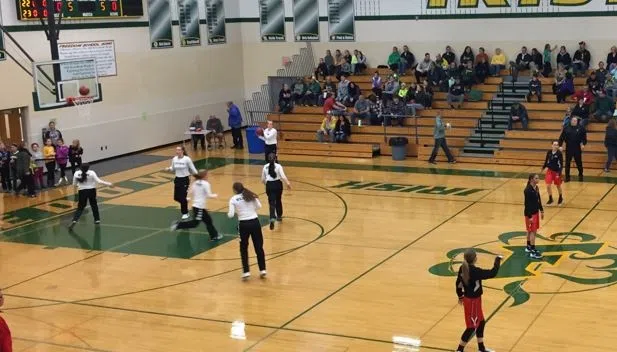 New London 65, Freedom 44
New London never trialed on their way to a 21-point road victory over Freedom, the defending champions of the North Eastern Conference. The Bulldogs can thank their outside shooting for the wide margin of victory. As a team, they hit eight 3-pointers, including four from the game's leading scorer Leah Porath. Porath scored a career high 27 points, helping her team in an impressive opening team performance.
"I think we're a young team and I think we really came out strong the first game," said Porath. "We really executed our stuff well and played a really good first game."
New London had Freedom overmatched at times, with the constant full-court press and fast-paced tempo. That style is something Porath says the team hopes to take advantage of this season.
"That's the plan. We're a short team, so in order to beat the big ones we have to get them running. The team expectation is really to outwork the other team. Get after the loose balls, press, just do all the little things, rebound, and hope it comes out our way."
Kate Christian added 12 points offensively for New London. Makenna Haase, last year's leading scorer for Freedom, was held in check with 7 points. She had been stymied by constant double and even triple teams in the post. Freshman forward Taylor Haase was the team leader in her first varsity minuets with 11 points.
Bonduel 62, Gillett 27
Bonduel proved to be too much for Gillett, as the Bears took care of the Tigers at home. The Bears had 12 different players in the scoring column, but were led by Emily Sorenson who had 11.  Despite the balanced effort, coach Reinke says it was the defense that stole the show.
"I'd like to see a little more talking on the defensive end. We worked on that in practice this first week and I told them at halftime we were starting to get away from it, and you need to communicate on offense, defense just as much, but I thought we played pretty well," said Reinke.
Whatever he told his team at the half seemed to work. Bonduel allowed just 9 second half points. Despite the strong defensive effort, Gillett was able to get to the foul line 38 times, however they converted just 14 for a 37 percent clip. Coach Reinke knows his team will have to clean up their play.
"I don't know if it was necessarily tighten calls, sloppy a little bit. I'm sure there was some nervous energy, I mean a lot of them starting their senior year. A little hands-on, we can do without that, but I thought we played aggressive defense for the most part."
Gillett was led by Faith Sorlie who had 9 points. Erin Balthazor added 7.
Shawano 59, Sturgeon Bay 19
Tori DePerry led Shawano with 12 points and 6 assists as the young Hawks topped Sturgeon Bay 59-19 to open the 2016-2017 season.
GIRLS BASKETBALL SCOREBOARD
Iola-Scandinavia 63, Wild Rose 59
Appleton East 72, Xavier 40
Appleton West 58, Manitowoc-Lincoln 51
Denmark 58, Roncalli 39
Neenah 67, Menasha 51
Ripon 41, Waupaca 32
Suring 52, Wabeno/Laona 26
Oconto 45, Coleman 14
Southern Door 59, Peshtigo 24
Manawa 53, Tigerton 49
Gresham 48, Wisconsin Valley Lutheran 25
I am text block. Click edit button to change this text.