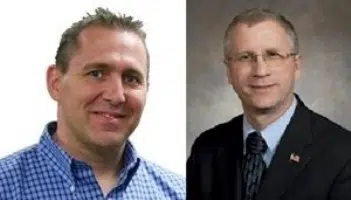 The candidates running for the 40th Assembly District Seat of Waupaca County share vastly different views on several issues facing local residents.
The race features Incumbent Republican Kevin Peterson and Democratic Candidate Dmitri Martin, his challenger. Both spoke briefly on their views of what's important this election at the most recent Waupaca County Board Meeting.
Dmitri Martin
Martin is a graduate of UW-Platteville and owns his own small business, GreenStar Home Performance, which helps homeowners become more energy efficient. Martin came to Waupaca, where he resides when he moved to the area to work as the District Executive for the Bay-Lakes Council for Boys Scouts of America.
He says he's running for office because he believes the political process is broken, and that the current representatives have lost touch with the people.
"They don't come to board of supervisors meetings, they don't come to many of our town meetings, they don't come to city council meetings. Instead, they wine and dine with a bunch lobbyists and party bosses. What we need are representatives who will integrate themselves into the communities of our district, who represent our district, and will not try to take a party platform and superimpose it on our district."
Martin says the 40th district has unique needs that can't be solved by the Republican or Democratic party, but by the representative who understands the needs of their constituents and it starts by helping small businesses and farms compete in an unfair market.
"Here in Waupaca and throughout our district, our mom and pop stores are closing," Martin claimed. "They can't compete with these larger companies that are getting all these tax breaks. I want to work the system the other way around. I want to pass legislation that benefits mom and pops on Main Street that benefits family farmers.
Martin hopes to be able to pass legislation to combat the issues small farms and businesses are facing.
"If you're running for public office in the state of Wisconsin, you can only accept campaign contributions from your constituents. No lobbyists, no political parties, no cooperations, and no unions. I've given back all contributions my campaign has received from political action committees, and even from the Democratic party."
This is all part of his pledge to fight for those he represents and their unique issues in Madison.
Kevin Petersen
Republican Incumbent Kevin Petersen has represented the 40th District Assembly seat since 2006. In the past two years of the most recent session, Petersen claims hes had success working with many within Waupaca County.
"I enjoyed working with the Department of Health Services, so that we could change laws so it's easier to get school data and other data, so that they can work with families that are having crises," said Petersen. "We've worked with the district attorneys to get pay increases for the assistant district attorneys, and we've worked with many of the organizations right here within Waupaca."
Throughout the campaign season, Petersen acknowledges that people have consistent needs in what they'd like to see out of the 40th District seat: jobs and education.
"When you look at creating jobs, it isn't government that creates jobs. It's the government's role to continually provide at atmosphere in this state, in this county, and our local communities that business people can create the job." He points the the current 90,000 openings on the state website and the only 40,000 applicants as an example.
Petersen says that the jobs have been created, but the focus should shift to finding capable workers to be trained for the positions. As for education, Petersen believes it comes in three parts.
"Educating the workforce, so that we can fill those jobs, K through 12 education, and then it also comes down to advance education, your tech colleges and your universities."
Petersen pledges to focus on other issues he believes important, such as efficient tax money spending, transportation funding, and taking care of the states veterans.