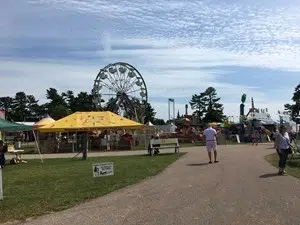 New Waupaca County Fair Manager, Jeremy Schroeder recently delivered the numbers of the 2016 Waupaca County Fair to board members after a successful run. This year the fair board underwent some noticeable changes.
"We had a brand new website, we had a new fair logo, phone, email, all of the logistical things that are so crucial for a proper business to run successfully," said Schroeder. "Currently the board is working on several job descriptions, roles and responsibilities, for not only myself as Fair Manager, but for each County Fair Board Director, as well as any officers and so forth."
Schroeder says that by putting the roles and policies on paper, it will help board members direct focus and knows whats expected of them.
Since taking over as Fair Manager, Schroeder puts emphasis on growing the fair and some of the changes emphasized this year were well-received by the public.
"One of the big changes you saw this year was the return of big name entertainment, which went very well for the first year. We incorporated new, free family entertainment throughout our grounds, and this year we had two free grandstand shows that were well-received. Those are just a very sample of some of the highlights in 2016."
The Waupaca County Board commits $15,000 annually to support the fair, which Schroeder broke down in detail the ways the money was spent, which includes paying for judges, barn cleaning, award ribbons, a veterinarian on-site, among many other costs. In all, costs totaled $28,973.25.