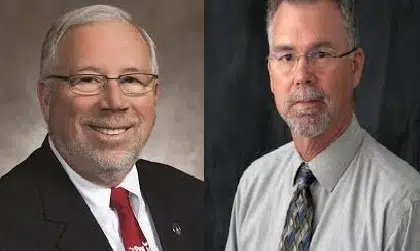 In the State Senates 14th District the race is between Republican Incumbent Luther Olsen and Waupaca Mayor Brian Smith, who is running on the Democratic ticket.
Both candidates have vast political experience. For Olsen, he was elected to the State Senate in 2004, after serving 10 years in the State Assembly, while Smith has spent the previous 15 years as the Mayor of Waupaca.
The candidates recently held a debate to discuss the elections important issues.
The candidates were first asked what their top three priorities are, if they would hold office.
Smith: "The number one reason that I decided to run for this was for local control. As the Mayor of the city of Waupaca, I've seen way too many mandates, almost a hundred mandates, that have come down from the state level that have been very harmful to our local economy and made it very difficult for us to function as a City, without having to cut services or without cutting employees."
Smith also put needs on funding education and the transportation issue the state faces.
Olsen: "Probably number one if I'm re-elected and fortunate enough to serve on the Joint Finance Committee is get our budget passed and make sure things get funded that need to be funded. That's the big thing. K-12 funding has always been my area. I worked last session to get $200 million into the budget that the governor took out. We need to increase funding for K-12 education."
Olsen, too, believed that transportation costs was an issue.
The transportation funding problem was a question both candidates answered.
Smith: "First of all we're going to do to what the current administration and legislation should have done. We're going to look at making sure that the Department of Transportation is running efficiently first. Once we figure out whether they're running efficiently and where we can find places to reduce those, then we're going to have to make the tough choice here. We're going to have to decide whether we need to increase the gas tax, raising the gas tax by one cent is going to raise about 363 million dollars."
Olsen: "We commissioned an audit to look at the Department of Transporation to figure out how we're spending our money, are we spending it wisely, what can we do more efficiently? I agree with Brian, we need to look at user fees. I'm thinking the way it's going to have to get done, I'm guessing is pulling transportation out of the budget and getting a bi-partisan bill, and raising some revenue to make sure we have some good quality roads."
Although both candidates may differ in how they will handle the transportation funding problem, they do acknowledge it exists.