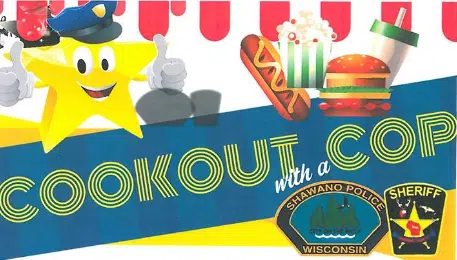 Members of Shawano Police Department, Shawano County Sheriff's Office and the Shawano community came together over great food, beverages, carnival games and conversation during The Cottage's Assisted Living and Memory Care's annual Cookout with a Cop.
It was the event's second year and featured a strong turnout of close to 350 community members, which is up from their first year.
"Last year, The Cottages employees saw a great opportunity to promote support for our police and fire department when there was such a turmoil last year everywhere, so we decided to make it an annual event and it turned out really well," explained The Cottage's General Manager, Cara Peterson.
The employee-initiated event also added a bike raffle thanks to donations from area businesses.
Not only was the cookout fun for families and kids of all ages, but it was a chance for residents of the assisted living home and memory care to enjoy a fun-filled day.
"I think the part they enjoyed the most was seeing all the families and all the children interacting with all the police officers and the fire department and looking at the police cars and fire trucks," Peterson said. "They really all enjoyed it very much."
She adds that the afternoon also serves as a teaching tool for children, given the current perception of law enforcement around the country.
"I think it gives us an opportunity to teach our children a better relationship with our officers and our first responders and the people that our out there keeping us safe. Just understand that these are good people and they're here to help us."
With the community's support, they're happy to continue Cookout with a Cop as an annual tradition.