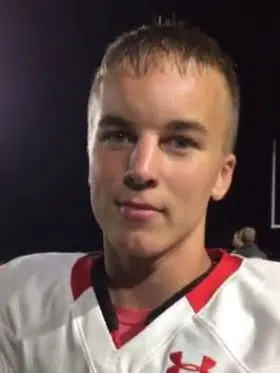 A missed extra point in the fourth quarter kept Waupaca from celebrating a win to open their new stadium with. The Comets lost control of an early lead, and fell to Shawano 35-34 in a Bay Conference game.
Shawano Senior Quarterback Jarrett Laatsch made is impact in Varsity Football Friday. Laatsch scored all five of Shawano's touchdowns on the ground and completed the night with 151 rushing yards and 87 passing yards in the win.
"We knew what Jarrett was capable of, he was just behind a really great kid the past couple of years"Coach Al Tomow said of his quarterback.
Waupaca was first to score as quarterback Brenden Canterbury tossed to touchdowns and rushed for one in the first half to give the Comets a 21-7 halftime lead. Canterbury found Justin Vaughn for a 20 yard score, and Jacob Pankratz for a 32 yard touchdown. Canterbury was 9 of 12 for 122 yards and two touchdowns in the first half, and ended the day 14 of 21 for 218 yards passing and 85 rushing yards.
"Receivers did a great job blocking for me, it was a great win" Laatsch said.
As a team, Shawano rushed for 340 yards as Roman Purull added 179 rushing yards. Laatsch rushed for just under 100 yards in the second half and scored four times in the final two quarters.
"We wanted to become a better running team this year" Tomow said.
Shawano scored the first touchdown of the second half on a Laatsch 1 yard run. Waupaca answered with a 12 yard run by Jack Menzies to make the score 28-14. Laatsch scored for Shawano on the next two possessions to tie the game and in the fourth quarter, Waupaca missed a 34 yard fieldgoal and a key extra point. Laatsch gave Shawano the 35-28 lead with four minutes to play. Shawano tried to get a game winning stop, but with three minutes to play, Jack Menzies broke some tackles and scored on a 44 yard run. The missed extra point left Waupaca on the outside looking in. Shawano was able to run out the clock to secure the win.
"We knew they were going to come out pretty excited to break in their new field. and they came after us first" Tomow said after the game.
The Shawano quarterback gave credit to the guys around him and in front of him.
"Tonight, the win was on them" he said.
Laatsch added the win gives the team some much needed confidence.
"That was a goal, we wanted to come here and spoil their celebration"
Waupaca was led by Jack Menzies who rushed for 80 yards and found the endzone twice.
Scoring
2nd- Waupaca-Brenden Canterbury to Justin Vaughn for 20 yards  7-0 Waupaca
2nd- Waupaca-Brenden Canterbury 1 Yard Run-  14-0 Waupaca
2nd- Shawnao- Jarrett Laatsch 2 Yard Run- 14-7 Waupaca
2nd- Waupaca-Brenden Canterbury to Jacob Pankratz for 32 yards- 21-7 Waupaca
3rd- Shawano- Jarrett Laatsch- 1 Yard Run- 21-14 Waupaca
3rd-Waupaca- Jack Menzies- 12 Yard Run-28-14 Waupaca
3rd-Shawan0- Jarrett Laatsch- 2 Yard Run- 28-21 Waupaca
4th-Shawano-Jarrett Laatsch- 6 Yard Run- 28-28
4th-Waupaca- Missed Fieldgoal
4th-Shawano- Jarrett Laatsch- 5 Yard Run  35-28 Shawano
4th-Waupaca- Jack Menzies- 44 Yard Run- Missed Extra Point  35-34 Shawano
Stats
Passing
S-Jarrett Laatsch- 6-11-87
W-Brenden Canterbury- 14-21-218 – 2 TD's 1 INT
Rushing
S-Roman Purull- 20-179
S-Jarrett Laatsch- 29-151- 5 TD's
W-Brenden Canterbury- 18-85 1 TD
W-Jack Menzies- 8-80 1 TD
Receiving
S-Crede Timm- 4-49
W-Justin Vaughn- 5-44 TD
W-Jack Menzies- 5-76