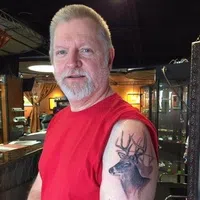 Lee J. Dankmeyer, age 64, of Wittenberg passed away unexpectedly on Saturday morning, August 19, 2017 at Ministry Saint Clare's Hospital, Weston.
Lee James Dankmeyer was born on July 6, 1953 in Tigerton to LeRoy and Juanita "Tootie" (Tratz) Dankmeyer.  He grew up in the Tigerton area and graduated from Tigerton High School in 1971.  Lee was united in marriage on December 30, 1972 to Marjorie A. Heger at Peace Lutheran Church, Split Rock.  The couple lived for a short time in Tigerton and Clintonville but moved to Appleton where they lived for most of their working years.  Lee was employed as a welder for J.J. Plank Corporation (currently known as Xerium Technologies, Inc.) in Neenah for over 31 years, retiring in 2015.  Then Lee and Marge returned to the area settling in the Town of Germania, Shawano County.
Lee is a former member of St. Anthony's Catholic Church, Tigerton.  He liked to listen to 50's and 60's classic rock music.  His favorite pastime was spent outdoors either bow or gun deer hunting.  Lee especially loved spending time with his grandchildren and was always a devoted husband, a loving father, and a proud grandfather.
Survivors include his wife of 44 years, Marge; and two children, Lori Kleman of Waukesha and Scott (Cyndi) Dankmeyer of Menasha.  There are three grandchildren; Emily, Megan, and Matthew.  There is one sister, Sue (Dave) U'Ren of Tigerton.  He is further survived by his father-in-law, Paul Heger of Shawano; one sister-in-law, Karen (Gregory) Wiley of Kalamazoo, MI; two brothers-in-law, David (Kathleen) Heger of Neenah and Gary (Tammy) Heger of Manawa; and many other relatives and friends.  Lee is preceded in death by his parents and his mother-in-law Lorraine Heger.
Memorial Mass will be held on Friday, August 25th at 11:00 AM at St. Anthony's Catholic Church, Tigerton, with Deacon Michael Brandt officiating.  Friends may call on Friday from 10:00 AM until time of mass at the church.  The Beil-Didier Funeral Home, Tigerton, is assisting the family.