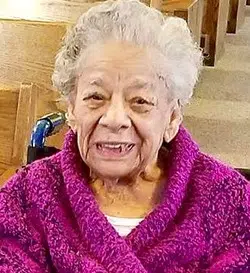 Gretta G. Jacobs, age 95, of Bowler, passed away at her home surrounded by family, on Saturday, August 19, 2017. Born on July 22, 1922 in Tomah, Gretta was the daughter of the late Phillip and Adelia (Abrams) Tousey.  On November 11, 1939 Gretta was united in marriage to Howard Jacobs in Morgan Siding.  Howard preceded her in death in 1991.  Gretta dedicated her life to God and to her family, she was an active and faithful member of Assembly of God Church in Morgan Siding where she taught Sunday school for 65 years.  She acted as a caregiver for many people over the years.  She also had a love for children and was referred to as "Grandma" by the whole community.  Family meant the world to Gretta and she would do anything for her loved ones including giving the occasional, affectionate "love tap" if needed.  She was a wonderful mother and grandmother and will be deeply missed by her family and her community.
Gretta is survived by: three children, Neil "Muncie" (Claudia) Jacobs, Euretta "Buzzi" Rollins, and Gearold "Bear" ( Vickie) Jacobs; she is further survived by numerous grandchildren, great grandchildren and great great grandchildren; as well as numerous nieces, nephews, other relatives and many friends.
She was preceded in death by: her husband Howard; children, Clyde Jacobs, Sr., Rosella Schaaf, Nelda Jacobs, and Sugar Zimmerman; a grandson, Brian Jacobs, a great granddaughter, Casey Rae Jacobs; her parents; seven brothers; and three sisters.
A funeral service for Gretta will be held at 11:00am on Tuesday, August 22, 2017 at the Assembly of God Church in Morgan Siding. Burial will be in Red Springs Cemetery.  Visitation will be held at Swedberg Funeral Home in Gresham on Monday from 4:00pm until 8:00pm and again at the church on Tuesday from 10:00am until the time of the service.