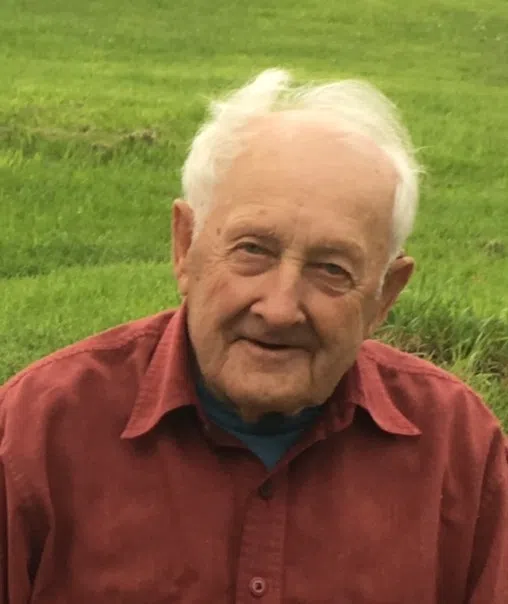 Edwin R. Schmidt, age 93 of Marion, passed away unexpectedly early Thursday morning August 10, 2017 at his home.
Edwin "Eddie" Rudolph Schmidt was born January 25, 1924 in the Township of Wyoming to the late Rudolph & Hulda (Neuman) Schmidt. He attended Westhill School which was located right on the corner of his home farm. Edwin farmed until his retirement, but also worked for Schmidt's Welding, Marion. He was united in marriage to Winifred McKay at St. Paul's Lutheran Church in the Township of Dupont and they were blessed with three daughters. Edwin and Winifred later moved to the city of Marion in 1979, where they have lived since. He was a current member of St. Peter's Lutheran Church in Big Falls. Edwin loved to be outdoors, whether he was farming or out in the woods making firewood. He also liked to go for drives through the local countryside with Winifred. He enjoyed watching his Green Bay Packers, any John Wayne movie as well as playing peg-board games and other puzzles. Edwin told many stories that he could recall from years past; his mind was very sharp until the very end of his Earthly life. He will be remembered as a hard-working provider, who would do anything for his family.
Survivors include his loving wife of 69 years: Winifred
Daughters: Barbara (David) Schuster, Clintonville
Mary (Wayne) Helms, Marion
Linda (Ron) Gast, Clintonville
Grandchildren: Beth Schuster, Adam (Stephanie) Schuster, Matthew Helms, Joshua (April) Helms, Jennifer Helms, Kenneth Gast, & Nicole Gast
Great-grandchildren: Marcus Helms, Ben & Anna Schuster,  Areonna & Kendra Helms
Edwin was preceded in death by his parents and two sisters, Evelyn Schmidt & Leora Schmidt.
A private committal with inurnment will be held at Greenleaf Cemetery, Marion.
The Eberhardt-Stevenson Funeral Home & Crematory, Marion is assisting his family.