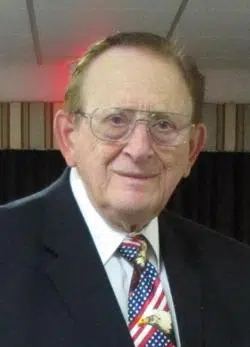 Frederick J. Souba, age 88, of Shawano, passed away on Friday, August 11, 2017 in Shawano.   He was born on March 13, 1929 in Detroit, to the late John I. and Marie (Kletzin) Souba.  Fred is a 1947 graduate of Owatonna (MN) High School.  Beginning his sophomore year, Fred spent his summers working for the railroad during WWII.  Following his 1951 graduation from the University of Minnesota Minneapolis with a Bachelor of Science degree in business, he enlisted in the US Navy, where he served from 1951-1955, on the USS Robinson and the USS Everglade at the end of the Korean Conflict.  Following his discharge from the Navy, he was employed by Pillsbury Mills in production control.  In 1959, Fred received his Bachelor's Degree in teaching from Mankato State University.  On April 25, 1959, Frederick was united in marriage to the love of his life, Joyce M. Peterson at Spring Lake Lutheran Church in Spring Valley, WI.  Fred taught school in Comfrey and Wabasso, Minnesota before the couple moved to Shawano in 1965, where he taught math at Shawano High School until his retirement in 1989.  Fred enjoyed traveling, card-playing, golfing, hunting, camping, attending USS Robinson DD562 Navy Reunions and had a love for music, especially Jazz, Big Band and Barbershop.  He was a member of Zion Lutheran Church in Shawano and a member of American Legion for 60 years.
Fred will be deeply missed by his five children, Susan Souba of Blaine, MN, Ann (Randy) Steffen of Shawano, Carl (Beth) Souba of Ellicott City, MD, Pamela (Steven) Schmidt of Marshfield and Carol (Jeff) Smiles of Manawa; grandchildren, Scott (Rachel Tennyson) Steffen, Ryan Steffen, Matthew (Erin) Schmidt, Andrea (Shawn) Nelson, Maria Smiles, Jessica Smiles, Alexandria Smiles, Benjamin Souba and Hannah Souba; great-grandchildren, Caleb Nelson and one due in September; his brother-in-law, Gary L. (Roxann) Peterson of Spring Valley, WI; as well as numerous nieces, nephews, other relatives and friends.
He was preceded in death by his parents; his beloved wife Joyce and his brothers, Clayton and Robert Souba.
Funeral services will be held at 11:00 am on Friday, August 18, 2017 at Swedberg Funeral Home in Shawano with Pastor Lois Graper officiating. Inurnment will be held at Woodlawn Cemetery with military rites conducted by the Shawano American Legion Post #117.  Visitation will be held at Swedberg Funeral home on Thursday from 4:00 – 8:30 pm and again on Friday from 9:00 am until the time of the service.  A memorial fund is being established.  www.swedbergfuneralhome.com