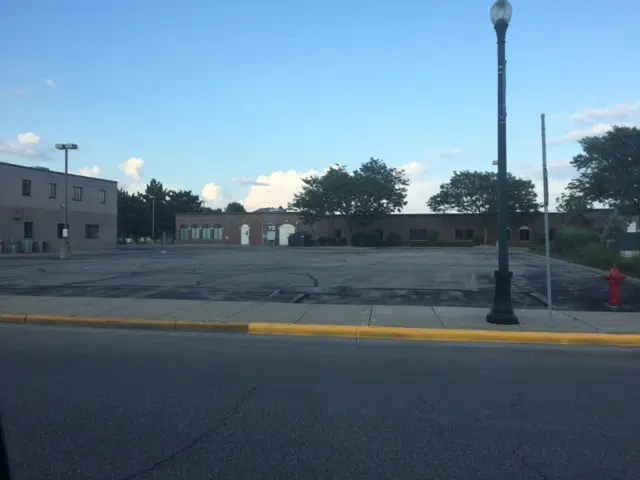 Tourism Expert Roger Brooks Study of Shawano and Menominee County Shows Much Need For Improvement, But A High Potential
A recent week-long study produced some pretty big eye-opening moments for Shawano County and Menominee County businesses and leaders. Tourism expert Roger Brooks gave results of a secret shopping study he did in Shawano and Menominee County, and along with some harsh critiques,unveiled some ideas for future development.
For one week, community branding expert and author Roger Brooks spent a week "secret shopping" all around Shawano and Menominee County.
"We really wanted to make sure we got to know these two counties from a visitors perspective" Brooks said. During his touring, Brooks evaluated the counties directional signage, overall appeal, things to see and do, customer service, retail shops and lodging. The results of of experience were presented in a four hour presentation on Monday at the Menominee Casino. Brooks said it did not take long for him to notice one big socialistic for tourists.
"One thing we noticed about Shawano is that you like to put major road construction right in front of your major attractions in the middle of tourism season" Brooks joked.
The findings that Brooks released were broken up into different categories.
Signage and "Wayfinding"
The evaluation looked at directional signage in the county. Brooks indicated that the City of Shawano signs needed improvement. He pointed out the sign on County B and Airport road intersection as an example of having the wrong font, too many items and not clear directions of where to find the locations they were pointing to. Brooks also pointed out the sign recognizing the 2002 State Championships as indicating the city has not been successful since then.
"It's great to be proud of 2002, but what kind of message does it send the visitors? Brooks asked.
H did, however, point out one community that stood out in a positive way when it came to wayfinding.
"The one place in the County that had good wayfinding was Red Springs."
Brooks said that was because the signs in Red Springs were clear, easy to read, used the correct text, and wereeasy to navigate with. He said that is important because some of the places in Red Springs did not come up in navigation systems. He also found the opposite side of the spectrum when it comes to wayfinding, in particular with welcome signs.
"Wayfinding also includes your gateway signs and almost all communities had beautiful gateway signs except Bonduel" he said.
Brooks said the gateway signs in Bonduel were difficult to read and should be updated. He recommended a county wide "wayfinding" program to fix many of the signs in the County, and said studies showed that by simply helping people know where to go and what each place is, will increase sales between 14 and 28 percent.
Brooks also commented on signage on the businesses themselves, which he said could use some work. Golf Courses were pinpointed as an example that lacked information about what they offered.
"Does the course offer 9 or 18 holes? Is it open to the public? Does it have a Pro Shop? Does it offer food? Brooks said these are all questions that people need the answer to before they even stop. According to Brooks, Maple Hills Golf Course in Wittenberg and Shawano Lake Golf Course lacked information on their sign and were not appealing to the eye in the front.
The Golden Sands Golf Course in Cecil sign was credited by Brooks for having information that that visitors needed.
"If you want visitors to have a pleasant experience, make it easy" Brooks said. "I think one of your top priorities is to make it easier for people to stay and spend money."
Brooks commented that some businesses like Classics in Shawano did not have a clear understanding of where guests can enter from, and in other examples of making it easy for the visitor, he commented that he could not find the Shawano Airport Terminal because it was not marked and said the Crawford Center building needed more information about what is inside the building.
"Maybe add the words Exhibition Center and Hockey Rink to the sign on the building, something to let people know what they can do there."
Brooks said these additions or replacements should be considered an investment and not an expense, because sales could increase anywhere from 14 to 28 percent by doing so.
Curb Appeal
Roger Brooks spent quite a bit of his presentation talking about fixing the curb appeal around the county.
"You know, visitors are not very good and we judge the book by the cover, and the cover was terrible."
Brooks commented that many businesses that they encountered were not appealing with landscaping and beautification.
"70 percent of first time sales comes from curb appeal alone."
"You have to understand that women make most of the decisions when it comes to spending money, and they go to places that are welcoming. that look attractive and have beautification."
Brooks said that one way to fix curb appeal is for business owners to walk in front of their store and look at their business from the eyes of their customers.
"One of the things that business owners do is go into their business from the back door and never look at what the customers see."
According to Brooks, this can be done by putting a sitting area in front of the business, placing flowers, plants and other landscaping in front of the business and keep up with weed cutting and the overall appearance of the building. Brooks said this could be done pretty easy with a little effort.
Brooks harshly said if the appearance looks like you are closed, people will think you are.
"In this county, I am afraid and hate to say that businesses are their own worst enemy."
Downtown
"Downtown's are back and in a good way"
In his downtown Shawano evaluation, Brooks noted that it is nearly impossible to see what stores are available because of lack of correctly placed signs. He mentioned creating blade signs, or signs that are perpendicular to the building so they can be read while walking on the sidewalks.
"When we walk down the street and drive down the street, we see signs that are perpendicular to us. I have no idea what is in shops. The only way I know is if I go across the street and look up."
Brooks said without detailed signs telling people what the stores are, it is too easy to just walk by.
Another concern for the downtown was store hours. Brooks said the current generations desires do not match what the downtown is doing.
"The future of downtown is not 9-6 folks. The future of downtown is 10-9 or 11-9. 70 percent of all retail spending takes place after 6pm. Are you open? When we get off work if we want to go shopping, I guess we better head to Green Bay or Appleton, because the only other place is Walmart" Brooks harshly stated.
One of the biggest problems in Shawano is a sign that says Open on Saturday's and on Saturday, they are not open."
Brooks also mentioned that the downtown should consider public restrooms and recommended the Ten + Ten + Ten rule which indicates that a downtown district needs ten places that sell food, ten destinations retail shops and at least ten of the places open after 6pm.
Outdoor seating is lacking according to Brooks. "I have two words for you…Think Benches" Brooks said. Statistics show that women account for 80 percent of the spending in a downtown district, and recommended more benches outside of stores for men could help. He also mentioned that businesses need to avoid what he calls the "garage sale" look outside of the stores. He said businesses should avoid having the clothing racks outside of their stores. He said that outdoor displays should be an extension of their window display.
Brooks mentioned that the downtown should consider public restrooms and should eliminated vacant and closed looking buildings.
"We counted more than a dozen places in the county that had open signs and the doors were locked when we tried to get inside. Another factor that was addressed was the empty buildings in Shawano. Roger Brooks said he counted 13 empty stores between 5th and Presbyterian Street in Shawano.
The final idea to revitalize the existing downtown, according to Brooks is outdoor dining.
"I did not see any sidewalk dining, you need to change that" Brooks said. People want this. There is no reason why you can't put tables and chairs outside of a restaurant.
The Plaza Idea
The Big Picture for the future of downtown according to Brooks includes the creation of a plaza.
"If you can get people downtown 250 days a year, all your retail businesses will be full."
Brooks talked about having a splash pad and an amphitheater for performances, outdoor seating and recreational opportunities that match some of the plans that are already being put in place for the future Franklin Park project in Shawano, but said the city should look at changing that location to a spot in the middle of downtown, in order to drive business. He pointed to a parking lot at the Green Bay Street and Main Street intersection near the old Badger's Best building as the ideal spot.
"What if you just lined it with street trees? Maybe we have some more seating, but you just do that here, because plazas need to be monetized. You can't just put it in a park, people are not spending money."
Brooks said that having this type of plaza at a location where the Franklin Park project is planned, will not help the downtown businesses as much as having it right in the center of the downtown district.

His idea was heard by many. During Wednesday's City Council meeting, Mayor Jeanne Cronce and City Administrator Brian Knapp said the information from Roger Brooks about the possibility of a plaza should at least be considered.
"We weren't thinking about it in the context of promoting our community" Brian Knapp said. "We are not monetizing that investment that we are making by trying to tie that into aspects of downtown. We do want to provide opportunities like a splash pad for our community members, but we also want people to come visit the splash pad and spend money here."
City Officials weren't the only ones doing some thinking. Curt Preston of Old Glory Candy said his recommendation would be to avoid perusing the Franklin Park project until more discussion is had on rather that is the right location for these plans.
"If we can put the breaks on that and just push pause for a second and rethink where we are putting these things" Preston asked the Council. "Architects put their pencils down and turn off the cement mixers for a minute and just talk about how these big items can serve the community and downtown businesses.
The image that Brooks painted was having a large area for visiting, shopping and splashing right in downtown. He also said if things are done right, the splash pad can become an ice skating rink in the winter, which will keep the plaza active for more than just two months a year.
THE BEST OF SHAWANO AND MENOMINEE COUNTY
Roger Brooks passed along the idea for promoting the best that Shawano and Menominee County has to offer in order to pull people in. Brooks recommended creating a "Best of" brochure of the businesses and activities that rank high in curb appeal, are open all year round, open until at least 7pm and are open at least six days a week. Brooks said the "Best of" must also be unique businesses and must be highly regarded by someone else. Brook said the Counties have a lot of places that qualify.
Wittenberg had three that Brooks said should be in the brochure.
Rachel's Roadside Drink Shack , Nueske's Applewood Smoked Meats in Wittenberg and Walls of Wittenberg
"These murals were so well done, we probably spent more time in Wittenberg than any other community other than Shawano" Brooks said of the Walls.

Brooks pointed out two places that stood out to drive people for water activity including Big Smokey Falls and Shotgun Eddys.
In Bonduel, downtown stores that stood out included Lark Country Store and the Rustic Shed. Brooks said he was really impressed with the Rustic Shed for what they had to offer and how they presented it.
"This shop by itself is worth going to Bonduel for" Brooks said. "You need to promote stores liek this because they are unique and will pull people in. Brooks said that the candy wall at Lark Country Store is enough to promote.
Brooks added Doc's Harley Davidson to be list for being so well known.
"There are people coming from different states and all the unique things to see there, people have to see it."
The Highway 44 Menominee Fall Color Tour and the Shawano County Barn Quilts were also added to Brook's must see list.
Brooks had a lot of good things to say about stores and resturants in Shawano and Downtown Shawano.
"You have to promote Old Glory Candy" Brooks said. He said he ran into someone in Green Bay who travels to Shawano just to get Old Glory fudge.
"Classics is one of the top three restaurants that we ate at." Brooks also said that Angie's Main Cafe needs to be added just because it is a 50's diner with homemade food.
Out of all the visits Brooks made, he said he was most impressed with Anew Emporium.
"This here is the best retail store in the county. Just well done, easy to read, good curb appeal and by the way the shop is just incredible" Brooks aid. "They do such a good job of immersing you in their experience, that you are hooked."
Other businesses that got the approval from Brooks to go into the "Best of" brochure for meeting the criteria are Tumbleweed, Spirit of the Northwoods, Driers Pharmacy and Gifts, Bubba's Barbacue, Torch Lite, Luigis, Golden Sands and Twigs Beverage.
Brooks said the "Best of" needs to include Scenic Drives, Recreation Spots, Country Living, Lifestyle Shops, Eateries, Treats and Gaming.
Brooks also commented on "Hidden Gems" that don't meet the criteria, but are good enough to draw people in. That list included Navarino Wildlife Area, Tigerton Area Historical Park, Eland Depot, Bowler Area Museum, Lower Red Lake, Old Mill Park, Menominee Cultural Museum,  Keshena Falls, Sullivan Falls and Gresham Depot Museum among others.
"Hidden gems and the Best of. If you do those two things you will have more people here and they will be spending way more money then they are spending now"