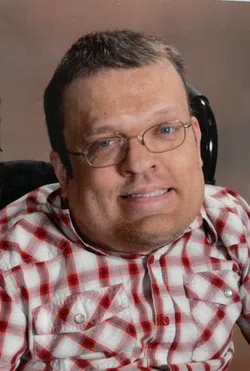 Peter T. Lathrop, age 43, New London passed away unexpectedly at his residence following a lifelong struggle with physical disabilities caused by Achondroplasia (dwarfism) on Tuesday, August 08, 2017.  Peter was born to Robert and Bette (Granger) Lathrop on June 5, 1974 in New London.  He graduated from New London High School and FVTC with a degree in Computer Science. He was an active member of Challenge the Outdoors (dedicated to serving the recreational needs and desires of the physically challenged sportsperson); Peter served as secretary.  He also served on the Board for AAL.  Peter was a member of Trinity Lutheran Church and served on the MOSES committee.  He enjoyed remote control car racing, fishing, watching the Packers, Fantasy Football, and especially March Madness.
Peter is survived by his father Robert; brothers and sisters: Mark (Melanie) Lathrop, Bend, Oregon; Joy (Scott) Webster, Holcombe, Terry (Tracy) Lathrop, New London; Sue Lathrop, Waupaca. He is further survived by nieces and nephews: Jenny (Colin) Lathrop; Nikki (Levi) Allen; Kayla (Brett) Polczynski; Molly Webster; Morgan Webster; and Brady Webster; great- nephew and great-nieces, Austin, Emma and Riley Allen and many other relatives and friends.
He is preceded in death by his mother, Bette Lathrop; a brother Kevin and infant siblings Dale and Dawn.
Funeral services for Peter will be held on Saturday, August 12, 2017 at 11:00 a.m. at Trinity Lutheran Church, New London with Rev. Bil Sutlief officiating.  Visitation will be held at the Cline & Hanson Funeral Home, New London on Friday, August 11, 2017 from 4-7 p.m. and also at the church on Saturday from 10:00 a.m. until the time of service.  Burial will be in the Floral Hill Cemetery, New London.