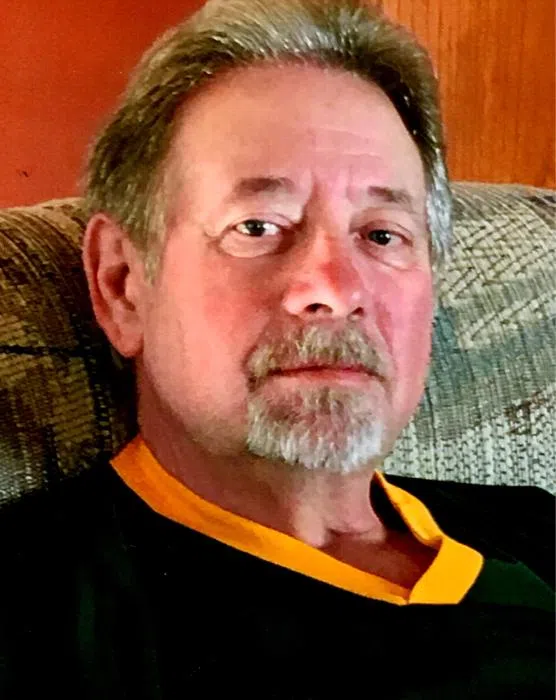 John "Berty" C. Bertram, age 65 of Marion, went to the big playground in the sky where he aced a hole, pitched a no-hitter, hit a grand slam, bowled a 300, caught his limit of Jumbo Perch, and won the jackpot on Friday, August 4, 2017 at his home surrounded by his loving family and friends.
He was born November 22, 1951 as the son of William and Charlotte (Cannizzo) Bertram. He grew up in the city of Marion where he attended school. After graduating in 1970, Berty attended Northcentral Wisconsin Technical College and received a degree in Residential Design. He worked for many years at Marion Building Center and for Torborg's Clintonville Lumber for 28 years. Berty retired from there in 2014 and spent the summer perfecting his golf game. Berty came out of retirement and worked part-time for Kwik Trip in Clintonville for two years. Berty was united in marriage to Sandra Mueller on May 17, 1986 at St. Martin Lutheran Church in Clintonville. The couple resided in Marion. He was a member of St. John's Lutheran Church in Marion. For many years he was a member of the Marion Jaycees. He was most proud of being a member of the Tennessee Squire Association. Back in the day, Berty hosted many Tuesday night Sheepshead games at his home and had an annual after Christmas garage party. He enjoyed bowling, slow pitch softball, golfing, fishing, going to the casino, spending time at the "Peppermint House" and spending time with their son Jeremy and grandson Griffyn. Berty will be remembered for his sense of humor, his outlook on life, his infamous softball strike-out move, sitting around the campfire at the Peppermint House with his bubba keg, and his "hugs" for the ladies.
Survivors include his of wife of 31 years: Sandra
Son: Jeremy (Shawna) Bertram, Marion
Grandson: Griffyn
Sister: Linda (Ray) Mielke, Marion
Brothers: Ed (Kim) Bertram,Clintonville
David (Betty) Bertram, Tigerton
Mother-in-law: Geraldine Mueller, Clintonville
Brothers-in-law: David (Kathy) Mueller, Summit Lake; Allen (Barb) Mueller, Clintonville; Dale (Michelle) Mueller, Land 0' Lakes; Bill (Chris) Mueller, Clintonville; and John (Colleen) Mueller, Clintonville.
God-child: Bob Mueller
Numerous nieces & nephews
Berty was preceded in death by his parents, Bill and Charlotte; a niece; his father-in-law, Louis Mueller; and numerous aunts and uncles.
Memorial services will be held 4PM Thursday, August 10, 2017 at St. John's Lutheran Church, Marion with the Rev. Wayne Garman officiating. Casual attire is requested by the family.
Following the service there will be a celebration of life at Northwinds Banquet Hall, Marion from 6-8PM.
Friends may caII on Thursday at the church from 2 PM until the time of the service.
The family wishes to express their gratitude to ThedaCare At Home Hospice for all of the loving care shown to Berty during his journey.
In lieu of flowers a memorial will be set up in memory of Berty.
When someone dies of cancer, we say they "lost their battle with cancer" as if
between the two of them, cancer was the better, the stronger and the smarter.
But you think about it, if I die from cancer, then cancer dies too. And if I survive
cancer, cancer loses its battle with me. CANCER NEVER WINS! – www.johilder.com
The Eberhardt-Stevenson Funeral Home & Crematory, Marion is assisting his family.