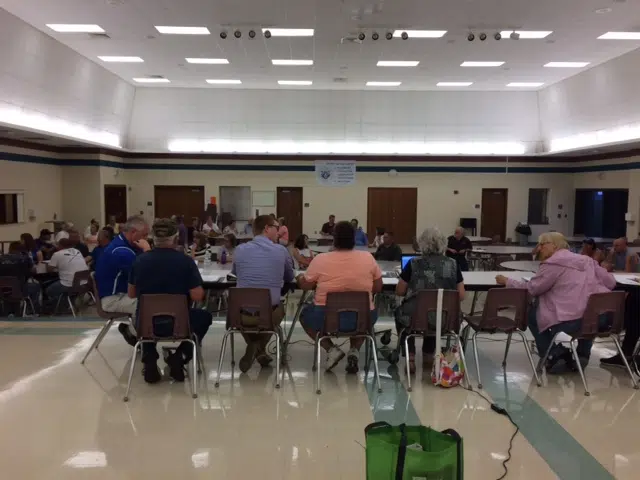 The Bonduel Village Board meeting was moved from its usual location at Village Hall to accommodate what was predicted to be a large crowd. Over 40 people showed up to both speak to the Village Board and also hear firsthand some of the reported tension that was currently taking place between board members.
Coming into the meeting, three officials sent in their letters indicating they were going to leave their positions.
Deputy Clerk-Treasurer Katrina Schroeder and Trustee Shawn Thorne both turned in their resignation, and Bonduel Police Chief Todd Chaney announced his retirement earlier than he was planning.
All three identified the disharmony coming from three board members, and some indicated Trustees Mary Barney, Joan Kamps and Margie Qualheim as the three.
After a few community members addressed the board, Village Board members spoke to crowd and to each other. Village Clerk Treasurer Willa Rusch spoke about accusations of missing money that were directed towards her and referred to in the resignation letter of Deputy Clerk Treasurer Katrina Schroeder. Rusch said Kamps questioned if the money she donated even went into the bank accounts.
"The integrity of the Village Hall when questioned like that is so damaging," Rusch said. "We depend on your trust and we highly value it. I don't want that trust compromised by lies."
From there, members of the Village Board, including Trustee Margie Qualheim and Village President Sharon Wussow, took turns speaking.
"I am human and I make mistakes just like everyone else," said Qaulheim. "I believe that a root cause maybe that this board is in a flux of new people who finally start to question. It takes courage, because I know one way or another we are going to get this board straightened out, instead of taking three ladies and making it a witch-hunt."
"I felt that the village residents needed to know," Wussow replied. "Right now Margie, you disrespected me at the very first meeting when you called me a bully."
One resident asked the resigning Thorne a question that changed the tone of the meeting.
"I have a question for you, Shawn. If we did a recall, would you come back?"
Thorne replied that he would at least consider it, but two other residents took it a step further and asked Thorne to rescind his resignation on the spot, eliminating the need to fill his seat that night.
"I hope Shawn, that you maybe will consider your resignation," said one resident.
Thorne answered with a humble "alright" after hearing that people wanted him to stay.
The residents also spoke out against Qualheim when she attempted to interrupt Trustee Luka Zischka, who she claimed was telling lies.
The words in the crowd came in large numbers, "Resign, please resign and just resign," were heard.
Qualheim left the meeting early but said she would not resign. The regular board meeting was held after.