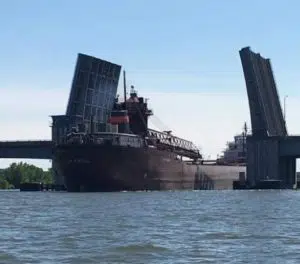 Green Bay Public Works Director Steve Grenier says preliminary reports indicate the Nitschke Bridge may have avoided direct damage when a cargo ship crashed into it Sunday.
"Outboard of the bridge itself, there are some large circular structures out there. There is a catwalk and a handrail that connect them to each other. It appears that one of those catwalks is what was struck, not the bridge itself."
Grenier notes a separate crash into the City Deck docks possibly damaged the floats beneath the docks.  He hopes to fully assess the damage this week.  For the time being, Grenier says a section of the floating docks and the city's kayak launch are out of service.