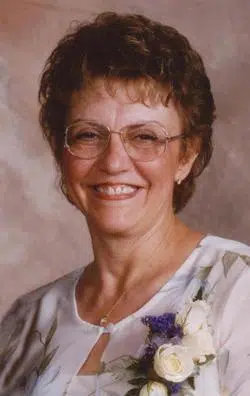 Peggy Lynn Bastar, age 68, of Shawano passed away at her home on Sunday, April 23, 2017 surrounded by her family. Born on February 5, 1949 in Shawano, Peggy was the daughter of the late Henry and Pauline (DeSwarte) Ainsworth.  Peggy graduated from Shawano High School and on December 31, 1966 was united in marriage to John C. Bastar.  Peggy was truly selfless, always putting the needs of others before her own.  She enjoyed baking and gardening in her free time but nothing was more important to her than her family.  She was a wonderful mother and grandmother and will be deeply missed by her family and friends.
Peggy is survived by: her five children, Jennifer (Paul) Parrott, Jayson (Amy) Bastar, Johanna (Jody) Schoen, Jessica (Matt) Knitter, and Janalee (Jason) Krueger; 21 grandchildren, Robert, Katilynn, David, Pauline, Amanda, Stephanie, Elizabeth, Emilee, Jordon, Anna Marie, Kelsey, Mollie, Hattie, William, Johnathan, Aubrey, Aiden, Angellena, Lauren, Morgan, and Max; as well as three great grandchildren, Jadyn, Myla, and Haylee.  She is further survived by her siblings, Kenneth Ainsworth, Phyllis Ward, Crystal (Herbert) Sandmire, Pauline (Bob) Buchner, John Ainsworth, and Patricia (Tim) McGuire as well as numerous nieces, nephews, other relatives and friends.
She was preceded in death by: her husband, John in March of 2015; a granddaughter, Theresa Joy; her parents; and two brothers, Gordon and Vernon.
A funeral service for Peggy will be held at 11:00am on Saturday, April 29, 2017 at First Presbyterian Church in Shawano with Elder Nanette Anderson officiating. Visitation will be held at the church on Saturday from 9:00am until the time of the service.
Swedberg Funeral Home is assisting the family.