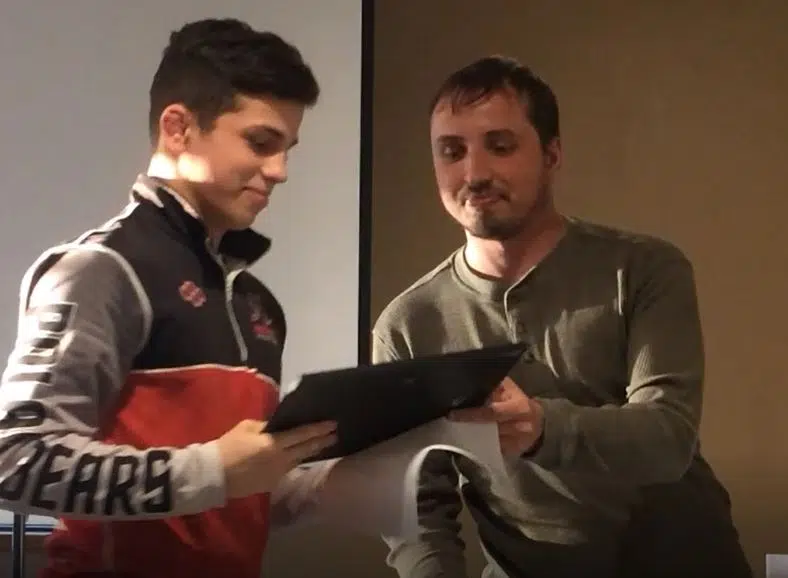 TCHDailyNews.com made a surprise appearance at the Hortonville Wrestling Team Banquet in April to present a year end award.
The 2017 TCHDailyNews.com Wrestler of the Year is Eric Barnett of Hortonville. The Polar Bear Sophomore completed an undefeated season at 45-0, culminating in a Division 1 State Championship at 106 pounds. Barnett also ended the season ranked in the Nation, and was one of few wrestlers in Wisconsin who finished the season unbeaten.
"For the High School season, I accomplished my goals, but I have bigger goals then this" said Barnett. "I guess I can get a better bonus percentage" Barnett joked. "It was a fun time and I really enjoyed the moment."
The Hortonville Wrestling Community was in attendance for the award presentation.
2017 TCHDailyNews.com Wrestler of The Year Award Presentation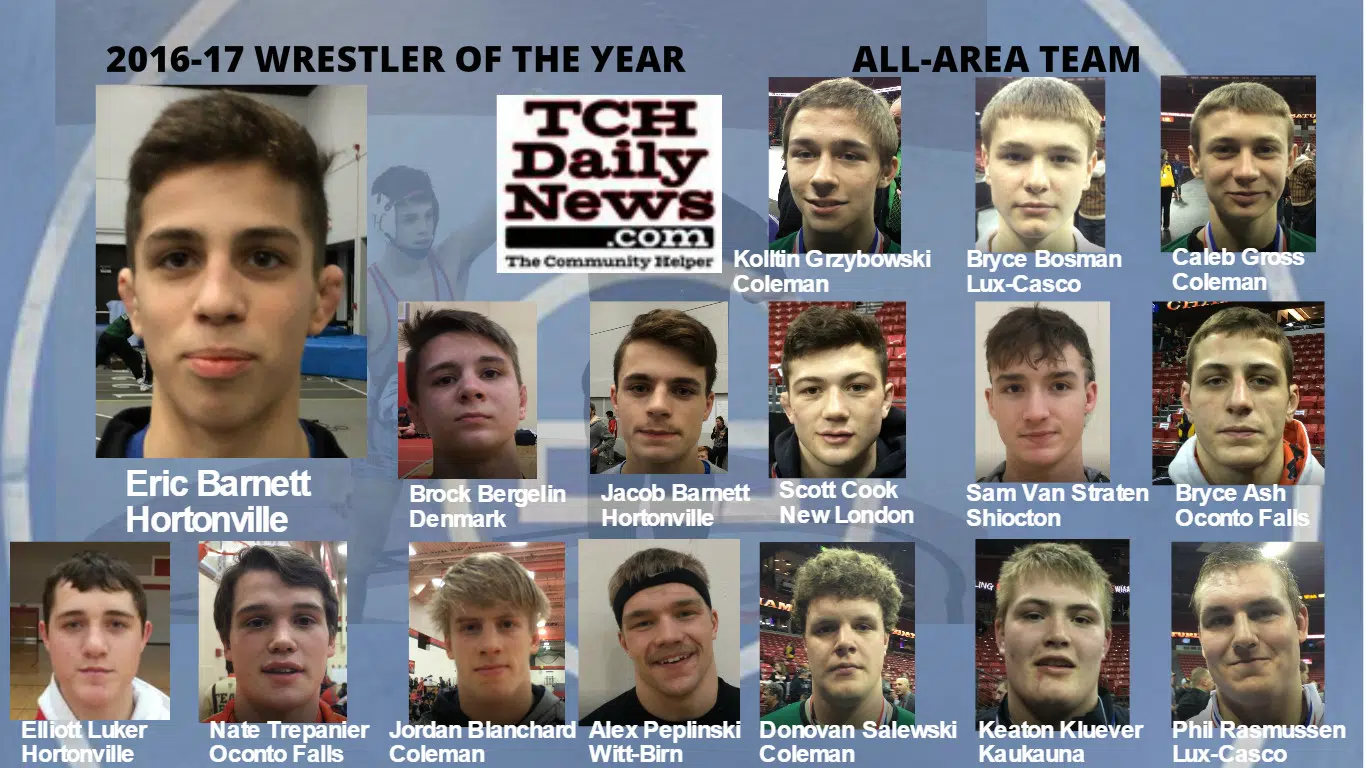 2017 TCHDailyNews.com All-Area Wrestling Team
106-Eric Barnett-Hortonville
106-Koltyn Gryzbowski-Coleman
113-Caleb Gross-Coleman
113-Bryce Bosman-Luxemburg-Casco
120-Brock Bergelin-Denmark
126-Jacob Barnett-Hortonville
138-Scott Cook-New London
138-Sammy Van Straten-Shiocton
145-Bryce Ash-Oconto Falls
160-Nate Trepanier-Oconto Falls
160-Elliot Luker-Hortonville
170-Jordan Blanchard-Coleman
182-Alex Peplinski-Wittenberg-Birnamwood
285-Keaton Kluever-Kaukauna
285-Donovan Salewski-Coleman
285-Phil Rassmussen-Luxemburg-Casco
Thanks To Our Panel of Coaches Who Voted For The All Area Team
Eric Clausen- Shiocton
Brad Johnson-Manawa
Chris Rank-Bonduel
Nathan Krueger-New London
Jeff Matczak-Kaukauna
Chris Gennrich-Hortonville
Tim Kaponis-Denmark
Mike Homan-Shawano
Ryan DePrey-Pulaski
Troy Ostrowski-Wittenberg-Birnamwood
Matt Verbeten-Wrightstown
Brad Shefchik-Bay Port
Zach Mueller-Menasha
Dave Braiser-Oconto Falls
Justin Lancaster-Freedom
Mark Schmoll-Seymour
Tim Potratz-Weyauwega-Fremont
Warren Howard-Peshtigo
Chas Treml-Luxemburg-Casco