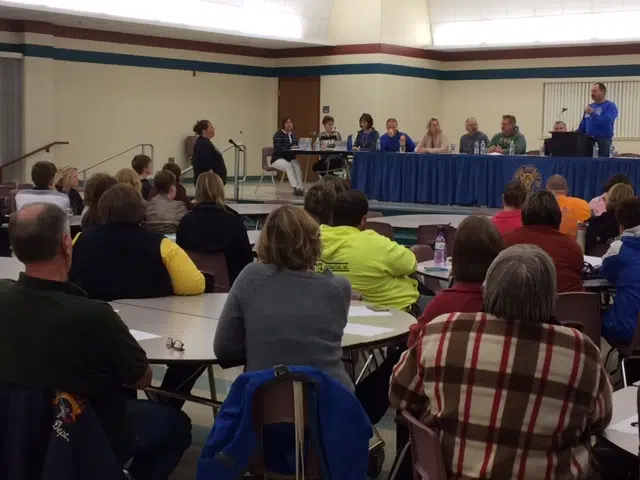 Tough Decisions In Bonduel- Possible Lunch and Busing Cuts Included
After a nearly five-hour long meeting, the Bonduel School Board was able to answer some tough questions. Monday night, the School Board pinpointed nearly $400,000 dollars of potential district cuts that may have to be made after their attempt at an operational referendum failed last week. Before the board meet in closed session, they listened for over an hour to the concerns of the community. Over 70 people were in attendance, many stayed through the whole meeting. Many concerns addressed the school's programs and future.
"These teachers are important to me and my kids" said one mother. "My kids even took money out of their piggy bank to save the school." Bruce Tippett is a High School Math Teacher at Bonduel and admitted that his family lives in Clintonville, even though his kids go to Bonduel. "How secure do I feel now that the community here will not even support their school?" asked Tippett. One Senior student said she was worried about the potential cuts that could be made in programs. "I am am not as worried about the academics because I am not for that, well I am, but not as much as clubs and activities."
In Tuesday's election, The Village of Bonduel voted in favor of Yes 190-119, but the Towns of Angelica, Hartland, Washington, the Village of Cecil voted nearly 2-1 in favor of No. Some community members said the approach taken did not reach the concerns of many of the voters.
"I would think the older generation was not comfortable voting yes because there was not a laid out plan for the money" said one speaker. "How are you going to get this out to the voters this time" asked one parent. District Staff member Missy Dowden said the process was different then a past successful referendum because the community did not share the issues with others. "It was on facebook, twitter and you (the board) attended different meetings, but nobody knew what the money was for" said Dowden, "Many people told me, they voted no because it was stated that board would use the money as they see fit."
Tom Wonderling, said to him it was pretty simple. "I don't see how you can afford NOT to have another election" said Wonderling. "When you look at the third year, 1.3 million dollars is a lot of money." Wonderling is the husband of High School Principal Jane Wonderling.
The Board deliberated and took a look at all expenses. In the end, a proposed list of possible cuts included eliminating the school lunch program for Middle and High School students. That cut concerned many as the district as a whole is 35 percent free and reduced lunch, with the numbers being higher at the elementary level.  Other cuts include 4.7 full-time equivalent staff members and not replacing retiring Elementary School Principal Peggy Jones, splitting those duties up with existing administration. That move could result in the closing of the Middle School Office, and sixth grade going to the Elementary School. District Administrator Patrick Rau said any staff changes would effect class sizes in a negative way.
Other cuts that were brought forward included changing the coach pay structure for coaching outside of the school year, eliminating the in-town bus route, forcing families who live in the Village to find transportation for students, charging athletic fees for sports participation and fees for use of the fitness center and school facilities. The Board also proposed the idea of eliminating 6th Grade and C Team in all sports, saving money on coaching, transportation and officiating. Rau said all the proposals are still "bad ideas", but that is reality of the situation.
"It was a rollercoaster, because the referendum failed, but then we saw over 70 people here tonight to try to find  a solution is a real uplifting experience" said Rau. "When we went to closed session and had to make tough choices, we see the faces of the staff members and the kids that it will impact and it takes a toll."
Rau was planning on talking to Staff members who may be affected by the potential cuts today.
In the meantime, the community feels the best answer is to go back to referendum, and if the board decides to do that, there is group of community members ready to step up. Jeff Molkentin said that was missing the first time and feels that would be the difference between a yes and a no, now that the gloom picture is laid out.
"I beleive that if everyone has the information about what is going to happen and how it effects real people, then people will change their mind that the amount of money they are asking for is not that much" said Molkentin. "There are now about 45 people that are willing to help , and if we have that many people, we should be able to convince everyone else that we need this."
The Board will meet again on Monday April 17 to discuss these cuts and the possible second referendum further. Anyone is encouraged to attend the meeting to comment to the board and questions or concerns they may have before any decisions are made. The meeting will begin at 7:00pm.
Additional Information
Voting Breakdown For School Referendum
Angelica- 17 Yes, 27 No
Green Valley- 24 Yes, 21 No
Hartland- 68 Yes, 102 No
Lessor- 99 Yes, 128 No
Navarino- 33 Yes, 41 No
Washington-70 Yes, 137 No
Waukechon-23 Yes, 32 No
Village of Bonduel- 190 Yes, 119 No
Village of Cecil- 69 Yes, 101 No
Yes 602, No 708