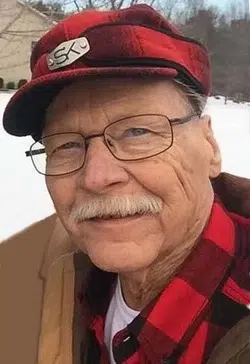 Russell "Russ" died April 9th, 2017 surrounded by his family in his home in New London, WI.  Russ was born May 31st, 1942 in Milwaukee, WI but lived most of his life between Appleton, Dale and New London, WI. Russ graduated from high school from Appleton West in 1960 and began his career serving in the US Army in Puerto Rico working as a military police officer.  After 3 years of military service, Russ returned home and married his high school sweetheart and lifelong companion Bonnie Smith (Mader) and remained married 48 years until her passing in 2012.  He was employed his entire career at Albany International (Appleton Wire) and made many friends there throughout the years.
Russ had two children Wendy Smith and Cory Smith. He dedicated his life to his family, his work and his community. Russ enjoyed helping others as a volunteer firefighter, Lion's Club member and as the constable of Dale, WI for a few years.  The outdoors was where he was often his happiest.  He enjoyed camping, fishing, shooting and hunting. Dad also loved music, singing, and listening to the "oldies" while sitting out on his back deck and taking in the sun or spotting wild turkeys and the occasional deer.  Dad loved spending time with his children and grandkids and making family trips to visit Wyoming, Texas, Mexico, France, and Colombia.
He was preceded in death by his wife Bonnie Smith (Mader), his parents Harland and Annette Smith (Doerfler) and step-Mom Helen Smith (Stalls).  Russ is survived by his two children Wendy Smith (Barcelona, Spain) and Cory Smith (Neenah, WI) and their spouses Francois Lacombe and Jennifer Smith (Resch). He leaves behind his cherished grandchildren Caitlin, Grant, Pablo, Luc and Mila.  Russ is survived by his brother Gary Smith and sister-in-law Beverly Smith; sister Cindy Kvam and brother-in-law Art Kvam; cousins Michael Smith (Richfield, Minnesota) and Carol Townsley (Colorado Springs).  He is also survived by many nieces and nephews including Pamela Wettering (Tower, Minnesota), Christy Smith (Appleton, WI), Brian Ehricke (Houston, Texas), Chad Ehricke (Appleton, WI), Kim Therrien (Seymour, WI), Sue Wieseler (Neenah, WI), Dawn Maxwell (Beloit, WI) and Steve Maxwell (Beloit, WI).  Russ is god-father to George Mitze Jr.
The family would like to thank the doctors at ThedaCare Regional Cancer Center and Froedtert Medical Center Hospital in Milwaukee who supported Dad during his illness.  We also thank ThedaCare hospice services. All of you are our heroes and may someday the fight against cancer be won.  Finally, many thanks to all the friends and neighbors who always came to help in the time of need.
The Funeral Ceremony for Russ will be held at 11:00 am on Thursday April 13, 2017 at Emanuel Lutheran Church, 200 Quincy St., New London, WI with Pastor William Heiges officiating. Visitation for family and friends will be held at the church on Thursday from 9:00 am until the time of service.  Burial and Military Honors will take place at the Highland Memorial Park, Appleton, WI at 2:50pm.  In lieu of flowers, Russ's children wish to create a Memorial Fund with the proceeds going to the Winchester Lion's Club Medical Equipment Loan Locker and the Leukemia and Lymphoma Society.