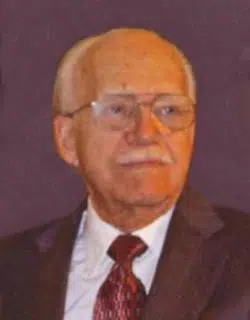 Donald Leon Barrick, age 93 of Shawano, died on Wednesday, April 5, 2017. He was born on June 6, 1923 in Salem, Oregon, the son of the late Leon Earl and Vera Irene (Oehler) Barrick. Donald served in the United States Army of Engineers in the European Theater during World War II.  Donald lived most of his life in Salem, where he entered the funeral service profession in 1947.  Donald's traits of being personable, and having a dry sense of humor, served him well during his career as a funeral director.  He owned and operated Barrick Funeral home until retirement in October of 1985.  He was a Mason, a member and former president of the Lion's Club, former president of Salem Knife and Fork Club, Exchange Club of Salem and was a long-time member of the Salem Chamber of Commerce.  He was married in Salem on July 16, 1948 to Alice Lucille Van Valkenburg, and they were blessed with three children; two daughters and a son.  On July 1, 1996, the couple moved to Chandler, Arizona.  Shortly after that, Alice died on February 5, 1998, from injuries sustained in an automobile accident.  Donald was united in marriage to LaVerna M. Raddant Krause on December 2, 2000 in Sun Lakes, AZ.  He was a member of the First Baptist Church of Sun Lakes, AZ, as well as a member of Gideon's International.
He is survived by his wife, LaVerna; his son, Gregory L. (Llynore) Barrick of Salem; his daughter, Karla (Ron) Izzett of Gilbert, AZ; step-children, Kathy (Warren) Behnke, Robert (Doreen) Krause, Tom (Laurie) Krause; four grandchildren; eight great-grandchildren; nine step-grandchildren; ten step great-grandchildren and a special friend and neighbor, Myrtle Gayhart who adopted Donald as "Pa".
He is preceded in death by his first wife Alice; his daughter, Patricia; his sister, Lois B. French and his parents.
Memorial services will be held at 3:30 p.m. on Tuesday, April 11, 2017 at the Swedberg Funeral Home in Shawano with Pastor Paul Behnke officiating. Military honors will be conducted by the Shawano American Legion Post #117.  Visitation will be held on Tuesday at the funeral home from 2:30 p.m. until the time of the service. 
www.swedbergfuneralhome.com