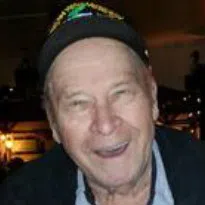 Raymond Mathew Koukari, age 85, of Shawano, WI passed away on Sunday, April 2, 2017 at Shawano Care Services (Manor Care) Nursing Home.
Raymond was born March 5, 1932 at Superior, WI, the son of the late Mathew and Sandra (Halonen) Koukari.  He spent his early life in the Superior/Maple area and at age 13 moved to Milwaukee. He graduated from South Division High School, January of 1953.  He served as a Corporal in the Army in the Korean War from 1949-1952.  He was united in marriage to Audrey Malueg on May 10th, 1954 in Dubuque, Iowa. He worked as a plumbing rep for 40 years until his retirement in 1992. He also drove school bus for the Bonduel District. He was a member of the Shawano Lake Lions since 1991. He was a member of the United Methodist Men for over 30 years and an active member of his church. For the past 10 years he was in charge of the Packer Concession Stand at Lambeau Field to benefit the Church on the Hill-UMC.  Raymond enjoyed playing cards, bowling, golfing, and watching sports on TV.  He liked helping others and loved people and making them laugh.
Survivors include: two sons, Raymond (Linda) Koukari, Jr., Racine, WI, Steven (Pam Krueger) Koukari, Shawano, WI: two daughters, Susan(Mark) Tesch, Friesland, WI; and Ann E. (Jeffrey) Hogg, Naples, FL; nine grandchildren, Jeremy, Michelle, Shane, Raymond III, Kassia, Stephanie, Kyle, Matthew and Jonathan: nine great grandchildren; and one great-great grandchild; one sister, Ruth Marcello of Shawano; three sisters-in-law Karen Layden , Milwaukee, and Dorthy Malueg, Plymouth, and Darlene Malueg, Neenah.  He is further survived by many beloved aunts and uncles, 4 nephews and many, many cousins and friends.  Raymond is preceded in death by his parents and his wife Audrey.
Memorial Service will be held on Monday, April 10th at 12:00 Noon at The Church on the Hill – United Methodist Church, 1000 Engel Dr., Shawano, with Rev. Claudia J. Deede officiating.  Visitation will be held on Monday from 11:00 AM until time of service at the church.  Friends may call The Church on the Hill-UMC at 715-526-5380.  Military Honors will be provided at the church by members of the AMVETS Post #10 of Shawano.  In lieu of flowers a fund has been established for The Church on the Hill-UMC.  The Beil-Didier Funeral Home, Clintonville, assisted the family.