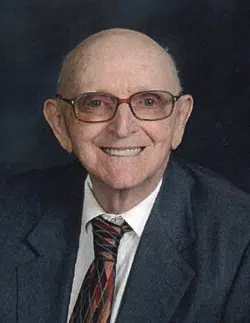 Stanley J. Cottril, age 93, New London, passed away on Thursday, March 16, 2017.  Stanley was born on a farm south of New London on February 2, 1924; he lived and assisted on the farm.
In 1954 Stan purchased Du Rite Plumbing & Heating business.  After a successful career, he sold the company in 1977 and then continued to build and rent apartments.
He was a member of the Rotary Club and in 1981 became a Paul Harris Fellow with the Rotary Foundation. He was a past member of the New London Library board and Fox Valley Girl Scouts board.  Stan was a very active member and volunteer of the United Methodist Church in New London; he was representative of the United Methodist Church to the Annual Conferences as a member of the Volunteers in Mission of the Untied Methodist Church. He traveled extensively in the Caribbean Islands, including Dominica, Trinidad and Monsurat volunteering his plumbing and carpentry skills.  He helped build churches in Bolivia and Coast Rica.
In 1993 Stan joined the Nomads, a group doing volunteer work throughout the south in the winter, working in Arizona, Texas, Louisiana, Florida, and Mexico. In the summer he helped repair churches in Alaska, Montana and Maine.  In spring and summer, he enjoyed volunteering in the gardens at St. Joseph Residence in New London.  Stan delivered Meals on Wheels to the house bound and gave a hand at the Senior Center.
In the year 2000 he was honored with a plaque for years on the United Fund Board and was presented the Community Service Award by the New London Chamber of Commerce. Also, in 2000 Stan joined the VIM of Wisconsin to work on local churches and buildings. Stan's last work as a Nomad was at the Cedar Key Methodist Church in Florida. The New London Lions Club honored him with the Outstanding Community Service Award in 2002.
He enjoyed his many fishing trips to Canada, Minnesota and South Dakota.
Stan was a life long resident of New London with a history of quiet giving.  He donated 2.3 million dollars toward his favorite charities and the Mayor of New London officially proclaimed June 1, 2014 to be Stan Cottrill Day.
Funeral Services for Stan will be held on Wednesday, March 22, 2017, at 11:00 a.m. at United Methodist Church in New London with Rev. Joyce Rich officiating.  Burial will be in the Floral Hill Cemetery in New London. Friends may call directly at the church on Wednesday from 9:00 a.m. until the time of service.