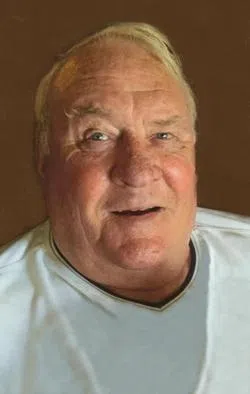 Elroy "Butch" Bergner, age 84, of Shawano, died Wednesday, February 22, 2017 in Shawano. He was born in Underhill, WI on December 17, 1932, the son of the late Albert and Lora (Koeppen) Bergner, Sr.  Butch's family moved to Shawano when he was 4 years old.  He attended St. James Lutheran School and graduated from Shawano High School in 1951.  After high school, he joined the Navy, serving during the Korean War in San Diego, Japan and Hawaii.  In 1955, after four years of service, he was honorably discharged.  When he returned home, Butch went to work managing a gas station for Grosskopf Oil in Wausau and Shawano.  On August 24, 1957, Elroy was united in marriage to Beverly Malley at St. James Lutheran Church in Shawano.  He started working for the Shawano Police Department on March 1, 1967, retiring after 23 years of service on March 2, 1990 as Captain of the department.  Butch was an active member of St. James Lutheran Church where he was an usher, served on the Board of Elders, served as lay minister and attend the Wednesday morning Bible class.  He was an avid golfer, enjoyed getting together with his "Friday Night Group", "Morning Coffee Group" and spending time at the cottage with their lake neighbors.  More than anything, Butch loved getting together and spending time with his children, grandchildren and great-grandchildren.
Butch is survived by: his wife, Beverly; their children, Wendy (Curt) Retzlaff and Patti Peterman; seven grandchildren, Bethany (Russ Gignac) Retzlaff, Craig (Danielle) Retzlaff, Jon (Lexi Zernicke) Retzlaff, Melody (Jason Bartz) Peterman, Ross Peterman, Reid (Kori) Peterman and Carina Crowe; four great-grandchildren, Vincent Retzlaff, Sullivan Retzlaff, Zoey Bartz and Syrus Peterman.  He is further survived by several nieces, nephews, other relatives and friends.
He was preceded in death by: his parents; and five siblings, Evelyn Stark, Mavis Wollin, Henrietta Freidrick, Albert Bergner, Jr. and Alyce Raguse.
Funeral services for Butch will be held at 11:00 am on Saturday, February 25, 2017 at St. James Lutheran Church in Shawano with Rev. Timm Griffin officiating. Military honors will be conducted at the church by the Shawano American Legion Post #117 following the service.  Burial will be in the Woodlawn Cemetery.  Visitation will be held at the church on Saturday from 9:00 am until the time of the services.  Memorials may be directed to St. James Lutheran School in Butch's name.