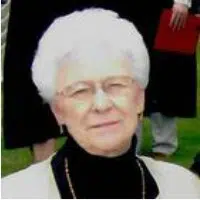 Joan M. Reinke, age 84, of Clintonville passed away Tuesday, February 21, 2017 at ThedaCare Regional Medical Center, Neenah.
The former Joan Mae Petcka was born on June 24, 1932 in Clintonville and was one of three children born to Joseph "Lefty" and Lois (Smith) Petcka.  One brother Robert died at a young age and she remained close to her other brother, Jimmy Joe, their entire lives.  Joan graduated from Clintonville High School in 1951 and was very athletic participating as a Trucker cheerleader.  After school she was employed for a short time as a teller at First National Bank in Clintonville.  Joan was united in marriage on February 13, 1953 to Edwin G. Reinke at St. Martin Lutheran Church in Clintonville.  She was a devoted wife, a loving mother and proud to be a homemaker for so many years.  Family was most important to her and not until the children were older did she start helping her husband at Lefty Petcka's Tavern on S. Main Street in Clintonville.  The couple bought the bar from her parents in 1972 and operated it until 1987.  Her husband Ed preceded her in death on October 29, 2000.
Joan is a longtime member of St. Martin Lutheran Church, Clintonville.  In her early years she enjoyed bowling and curling on several local leagues.  The couple loved to dance, go tent camping, and watching local sports, especially Clintonville A's baseball.  She was an avid Wisconsin Badger football and basketball fan for many years.  Joan and Ed were huge Green Bay Packer fans as well, attending the famous 1967 NFL Championship "Ice Bowl" game.
Survivors include three children, Rodney (Kathy) Reinke of Shawano, Sherry Frost of Clintonville, and Steven (Holly) Reinke of Clintonville.  There are 11 grandchildren, Joseph (Becca) Reinke, Mark (Brittany) Reinke, Amy (Andy) Hartman, Karen (Mike) Amundson, Kris (Greg) Perrien, Jon (Dana) Frost, Jeff Frost, Sussanah (Chris) Sasman, Stephen (Elisabeth) Reinke, Stacy (fiancé Matt Rueb) Reinke, and Sarah Reinke.  There are 13 great grandchildren, Hudson, Chloe, Elijah, Slade, Gage, Kaitlyn, Bryce, Madison, Charlie, Benjamin, Tally, Daniel, and Abby.  There is one great-great grandson, Ryker.  She is further survived by a sister-in-law, Linda Petcka of Clintonville and a brother-in-law, Donald Reinke of Bonduel.  Joan is preceded in death by her parents and her husband; two brothers Robert and James "Jimmy Joe" Petcka; a brother-in-law John (Geraldine) Reinke; and a sister-in-law Joan Reinke.
Funeral Service will be held on Saturday, February 25th at 11:00 AM at St. Martin Lutheran Church, Clintonville.  Rev. Christian Burg will officiate and burial will follow at Graceland Cemetery, Clintonville.  Friends may call on Saturday from 9:00 AM until time of service at the church.  The Beil-Didier Funeral Home, Clintonville, is assisting with the arrangements.
The family wishes to thank all the doctors and nurses at ThedaCare Regional Medical Center for the compassionate and loving care provided to mom.