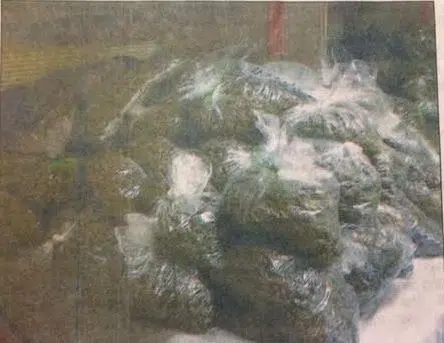 Update: Wednesday February 22, 2017 9:25 AM
Five more arrests were made. The subjects are expected to be in Shawano County Court on Wednesday. We will have more details later this afternoon.
Drug Trafficking Bust Becomes One of Shawano Counties Largest
"This is without question the largest drug case I have seen in my 15 years" Those were the words from Shawano County Circuit Court Judge James Habeck, addressing four suspects who were in court on Tuesday.
Four suspects were facing charges in what is being called one of the largest drug trafficking conspiracy cases in Shawano County. Bond hearings were held for four subjects who were recently taken into custody. Among them was 52-year old Daniel P. Hoffman of Bonduel, who according to the report, was the allegedly the main supplier.
"Mr. Hofman is really the hub of the conspiracy here" Attorney Parker told the court. "He is a person that was being tracked by the Federal Government, the Minnesota Department of Drug Enforcement, Nebraska State Police, Department of Criminal Justice along with the Immigration customs and The Department of Homeland Security."
The report indicates that Hofman was arrested in May of 2016 while traveling through Minnesota. With the help of canine, the presence of drugs was alerted, and marijuana were located. According to District Attorney Greg Parker, In a three year period Hofman allegedly made 73 trips to California, where the marijuana was being harvested. Parker told the court that a $25,000 machine  was acquired by Hofman. The machine was allegedly used to process THC oil .
"It is a botancial extraction machine, but really it was being used to make TCH oil. Attorney Parker said Hofman was able to refine the THC oils to be 75.1 percent pure."
"This is the first time we have seen one of these in our area" said Attorney Parker. "It is safe to say that Mr. Hofman is a large scale processor and deliverer of a large amount of THC and marijuana in this area."
The other suspects in court include 22-year old Calvin Berndt of Stevens Point and 24-year-old Joshua Natzke of Shawano, along with Hofman's wife 53-year old Wendy Hofman. According to the complaint, Natzke and Berndt are alleged co-conspirators, and there are likely to be others, making this case one for the records according to District Attorney Greg Parker. "This is the largest drug conspiracy's I have ever seen.
Hofman is charged with two felony counts of Maintaining a Drug Trafficking place as well as felony counts of Manufacture and Delivery of THC and Possession with Intent to Deliver THC. Hofman is also charged with multiple misdemeanors, and was ordered to be held on a $25,000 dollar cash bond.
Joshua Natzke is allegedly a co-conspirator, and was charged with four counts of Manufacture and Delivery  of TCH, one includes being near a school. Natzke is also charged with four counts of Maintaining a Drug Trafficking Place and two counts of possession With Intent to Deliver. "It appears this activity has been going on for quite sometime" Attorney Parker told the courts. According to the police report, Natzke was a "dealer that sold mainly quarter-pound to half-pound amounts of high grade marijuana." The report also indicated that he had many clients. Natzke was ordered to be held on a $25,000 dollar cash bond.
Calvin Berndt and Wendy Hofman are also both facing one count of felony Manufacture and Delivery of TCH.
Berndt is allegedly a co-conspirator, and is a student at UW-Stevens Point. Berndt was arrested on Monday. According to court records, at the time of his arrest, over $39,000 dollars cash was located along with a money counter. Another co-conspirator told officials that Berndt would sell large amounts of marijuana at a time, with it often being around 40 pounds. Berndt was orderd to be held on a $25,000 cash bond. "In that time, another co-conspirator explained that hundreds of pounds of marijuana has been exchanged in a year's time.
Wendy Hofman allegedly was aware of her husband's activities, and according text messages between the two of them were recovered, according to the police report. District Attorney Greg Parker told the court that she would keep track of the details.
"She would make and keep a list of the money owed to Daniel Hofman" explained Parker. "Whether she is involved in the manufacturing, she is aware of the operation and is a co-conspirator.  Hofman was ordered to be held on a $20,000 dollar cash bond, but the conditions granted included her being allowed to have contact with her husband due to the fact that they live at the same residence.
Each of the defendants could receive up to 15 years in prison and $50,000 dollar fine if found guilty of conspiracy to deliver marijuana. The additional felony counts could result in a 3 1/2 year prison sentence and $10,000 dollar fines. In the case of Joshua Natzke, two of the counts could be increased to 10 years in prison and $25,000 dollar fine due to the amount allegedly dealt with.
Contributed Photos from left: Daniel P. Hofman, Wendy L. Hofman, Joshua M. Natzke, and Calvin W. Berndt