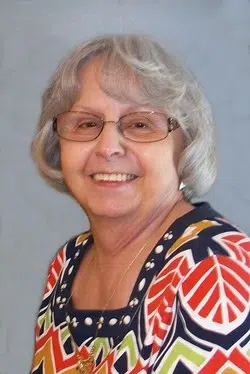 Anna Mae Hoffman, age 75, of Gresham, died at a Madison hospital on February 18, 2017, surrounded by her husband, children and family. Anna was born on April 2, 1941, in Keshena, WI, the daughter of Marvin and Catherine (Penass) Kuester. She was raised by her mother in Keshena on the Indian Reservation. She attended Keshena Elementary School and Shawano High School. On January 9, 1971, Anna married Donald "Donnie" Hoffman and together they raised six children, along with providing temporary care to several foster children. Anna was a cooker and baker and loved hosting family gatherings where there was always enough food to "feed an army".  Anna Mae could often be found clutching her stomach from laughing so much at these gatherings. She enjoyed sewing, quilting, embroidery, refinishing furniture, sharing recipes, fishing, gambling, reading and traveling. She collected aprons, Campbell soup cups, beanie babies and thimbles.
She leaves behind her loving husband of 46 years, Donald; her sons, Jay (Peg) Crowe and Jon Crowe; her daughters, Julie (Jay) Schultz, Jennifer (Brett) Schabow, Jacqueline (Virgil) Gueths and Joylyn (Ryan) Hoffman Malueg; her sisters, Mary (Peter) Kemmeter and Kay Charkandy. She is further survived by her sisters-in-law, Renee Pieper, Margaret Hoffman and Connie Ketner; her 19 grandchildren, Joshua (Rachel), Janelle (Kendall), Jake (fiancé Ashley), Luke (Casey), Ryley, Antone, Adam, Katie (Sarah), Mason, Noah, Arthur, Cole, Sydney, Isaiah, Samuel, Josie Anna, Cameron, Coralyn; her great-grandchildren, Joanna, Jude and Kaleb, as well as numerous nieces, nephews, several foster children and many other relatives and friends; along with her dog Squeaker. Mom worked very hard all her life taking care of Dad and us kids. She always worried WAY too much about all of us.
She is preceded in death by her mother and father; her brother, Keith Thomas; her sister, Phyllis Ann; mothers and fathers-in-law, Ralph Hoffman, Esther and David Rittenhouse, Joseph Sr. and Madeline Crowe; her brothers-in-law, Fred "Smilie" Pieper and Roger Hoffman.
Funeral services will be held at 11:00 a.m. on Wednesday, February 22, 2017 at the Woodland in Gresham with Bishop Patrick Pleshek officiating. Visitation will be held on Wednesday at the Woodland from 9:00 a.m. until the time of services. Swedberg Funeral Home is assisting the family with the arrangements.
We will miss her laughter. We will miss her weekly, if not daily, phone calls to each of us siblings to catch up on things. Mom…you can rest now. You have worked hard your entire life, now relax. There is no need to worry about each of us like you did your entire life. Be free of worries.
The family would like to extend their sincere gratitude to the incredible nurses and staff at the Appleton Medical Center. Their compassionate and professional care during her illness was immensely appreciated and we salute you in helping others in time of need. Your efforts will always be remembered. www.swedbergfuneralhome.com