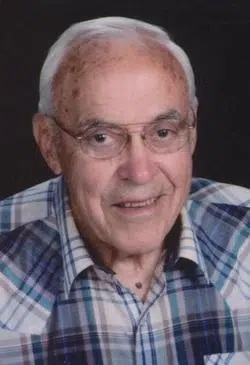 On the morning of February 16, 2017, with his family by his side, Earl William Druckrey, age 91, was called to his heavenly home. Earl was born on the home farm in Advance, WI December 3, 1925 to the late Carl and Effie (Bergner) Druckrey.  The family moved from Advance to Shawano in 1932.  He attended St. James Lutheran School and graduated from Shawano High School in 1944.  Due to Earl volunteering at the age of 17 to serve his country, his mother accepted his high school diploma on his behalf.  He entered the Marine Corp. on March 22, 1944 and served as a PFC in Japan, China and Okinawa Island during World War II.  He received and honorable discharge on March 13, 1946.  Earl was very proud of his service to his country and took great pride in being a Marine.  He was a long standing member of the VFW in Rhinelander.  On July 9, 1949, he was united in marriage to Susan Moesch and they made their home in Shawano.  Earl worked for the Soo Line Railroad for 35 years, beginning in Shawano and Appleton, then transferring to Rhinelander.  After retirement he was employed at J.C. Penny in Rhinelander.  He also spent countless hours volunteering for Meals on Wheels, Rhinelander Food Pantry and the railroad museum in Pioneer Park, where he greeted visitors at the railroad depot.  He was a member of St. Mark's Lutheran Church in Rhinelander.  Earl enjoyed hunting, fishing and spending time reminiscing with family and friends.  He especially enjoyed the many early morning hours he spent with his friends at McDonalds.
Left to cherish his wonderful legacy are: his children, Jeff (Vicki) of Green Bay, Barbara (Richard) Lueth of Harshaw, Jayne Stenstrom of Woodruff, Steven (Tanya) of Oshkosh and David (Kelly Lund) of Shawano; his grandchildren, Jana, Ondra, Vladimir, Tim, Anthony and Brett; five great-grandchildren; two sisters, Beverlee Kassube of Green Bay and Mona (Robert) Urban of Shawano; and three sisters-in-law.  He will be deeply missed by his forever friend Ray Zettler of Rhinelander.
Preceding him: his wife, Susan; a granddaughter, Erin Grace Druckrey; his parents, three brothers, Sidney (Inez), Neil (Irene) and Roger (Helen); two sisters, La Bonna (August) Kruse and Kay (Chum) Parsons; and his in-laws, John (Emily) Moesch, Donald Moesch and Jack Moesch.
Funeral services for Earl will be held at 11:00 am on Tuesday, February 21, 2017 at St. James Lutheran Church in Shawano with Rev. Timm Griffin officiating. Inurnment will be in the Woodlawn Cemetery in Shawano.  Visitation will be held at Swedberg Funeral Home on Monday, February 20, 2017 from 4:00 – 8:00 pm and again at the church on Tuesday from 10:00 am until the time of the service.
A very special thank you to Dr. Kate and Hospice Ministry Home Care, Woodruff, WI.