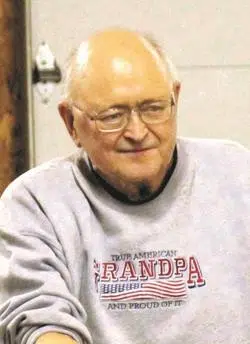 John August Louis Wissmann, Jr., age 77, of Clintonville, passed away on Saturday, February 11, 2017. John was born on October 21, 1939 in Shawano to the late John and Adela (Schwartz) Wissmann, Sr.  John graduated from Shawano High School and continued his education at U. W. Oshkosh where he earned his bachelor's degree in math and science education.  On August 27, 1961, he was united in marriage to Nancy Jane Sachs in Seymour.  John was an active 4th generation member of Bethlehem Lutheran Church in Pella. He taught Sunday school and confirmation classes for nearly 30 years, as well as served on the council as secretary, treasurer, vice president and deacon.  John was past president of the men's organization at church and a member of Gideons International for many years.  He worked on the family dairy farm, taking over in 1970.  While running and expanding a successful dairy farm, he taught mathematics at Shawano High School.  During his 33 years as a teacher, John "Slim" Wissmann, was known for his great story telling.  He was also an accomplished builder, building sheds, barns and the family home with trees harvested from the property.  He was an avid dartball and softball player and enjoyed hunting, fishing, golfing, playing cards, crafting maple syrup, and attending Bible class at St. James.  John will be missed by all who knew and loved him.
John is survived by: his wife, Nancy; their children, Mark (Chris) Wissmann of New Port News, VA, Patricia "Patty" (John) Tomtschik of Wichita, KS, Susan (Roy) Acuña of Batavia, IL, Diana (Edward) Ross of Grandview, MS and Jennifer (Anthony "Tony") Rozga of Clintonville; 11 grandchildren, Hannah, Bethany, Jonathan and Matthew Wissmann, Julia, Sarah and Annika Tomtschik, Gabriel "Gabe", Nichole "Niki" and Zachary "Zach" Ross and Jane Acuña; sisters-in-law, Camille Wissmann, Beulah Jasman, and Donna Sachs; a brother-in-law and sister-in-law, Jonathan and Betsy Sachs; as well as many nieces, nephews, other relatives and friends.
He was preceded in death by a stillborn daughter; his parents; his brother, Dan Wissmann; and brothers-in-law, Robert Jasman, Philip Sachs and Richard Sachs.
 Funeral services for John will be held at 11:00 am on Saturday, February 18, 2017 at Bethlehem Lutheran Church in Pella with Rev. Tim Lofgren officiating. Burial will be in the church cemetery in spring.  Visitation will be held at Swedberg Funeral Home in Shawano on Friday, February 17, 2017 from 4:00 – 8:00 pm and again at the church on Saturday from 9:30 am until the time of the service.  In lieu of flowers, memorials may be directed to Gideons International.
 The family would like to extend a special thank you to Dr. Michael Williams, Dr. Alex Tretinyak ThedaCare at Home Hospice, Pastor Tim Lofgren, and all the friends who have been there for the family.