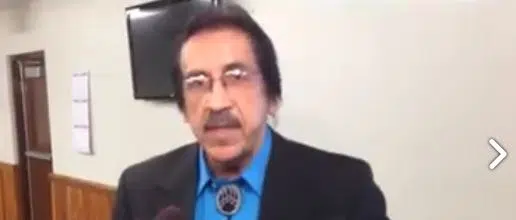 Gary Besaw has once again been elected to serve as Menominee Indian Tribal Chairman. The Tribal Legislature held their Reorganizational Meeting on Thursday. During that meeting, the Tribal Legislature swore in Eugene Caldwell, Ronald Corn Sr and Craig Corn to three-year terms. Gary Besaw replaced Joan Delabreau, who decided not to seek another term.
"I would like to congratulate Chairman Besaw on the election and wish him well. His past experience serving not only as a Legislature, but on the Executive Council, will continue to benefit the Menominee Nation" said Delabreau. "I wish him well and look forward to continuing my service working with the Tribal Legislature."
"As a Nation, we have faced many obstacles and challenging times and this Legislative year will prove to be no different with the changing climate concerning preservation and protection of our natural resources, culture, sovereignty and the needs of our tribal membership" Besaw said in a Statement.
Besaw served as Tribal Chairman during the 2015 Legislative Year, around the time the Tribe completed a march to Madison to express their sadness over Governor Walker denying the building of a Casino in Kenosha. Besaw said he is ready to take over the work that is already underway.
"Our Tribal Legislature will continue to do the work necessary to ensure that Menominee sovereignty, culture and resources are protected. In addition, we will work to provide needed assistance and opportunities for our membership.
Besaw was first elected to the Tribal Legislature in 2002 and served through 2008. He was re-elected to office in 2012 and has served since.