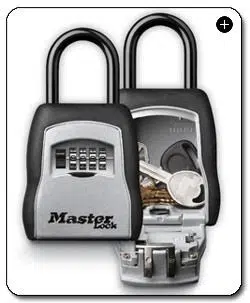 Committed to serving the community the Shawano Police Department continues to find ways to keep the public safe. That's why they are encouraging residents, especially the elderly who maybe living on their own, to consider purchasing what they call a padlock for their door. The device is something similar to those used by realtors and its purpose is to be used in the case of an emergency.
"You hook it over the door knob and it has a little and it has a little dial combination lock that you put you house key in" explained Shawano Police Chief Mark Kohl.  "Emergency personal would be able to learn what the combination is if they get called there."
Chief Kohl says with emergency personnel having the combination to the lock, they would be able to safely enter the home when responding to an emergency. In this case, they would not have to force entry and damage the home's door, something they'd have to do if necessary. The Police Department also found a way for residents to acquire the system locally.
"We wanted to keep them spending dollars in town, so True Value will have the padlock system for homeowners to purchase." Chief Kohl said to ensure that people who need them have them and are using them, he is willing to help get the process started.
"I will come out and help you hook it up at you home" said Kohl. We want you to be safe and want you to understand why it is there."
For more information, you can contact the Shawano Police Department with any questions or concerns.