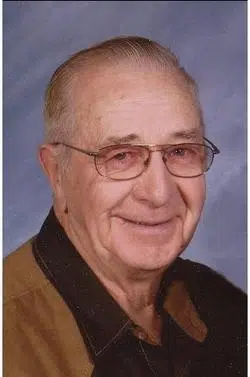 Delano J. "Pat" Wudtke, age 80, of Bonduel, passed away at his home, on Friday, January 20, 2017, surrounded by his family. He was born on January 9, 1937, the son of Harold and Ida (Hoppe) Wudtke.  Pat graduated from Bonduel High School 1954.  On June 1, 1957 he was united in marriage to Marilyn Luepke.  Pat was a former member of the Bonduel Fire Department.  He was also in the men's pool league, men's bowling league, couples bowling league, an avid baseball fan and former player and manager of the Bonduel Broncos baseball team.  He enjoyed hunting and fishing, sturgeon spearing, playing cards, traveling, polka dancing, watching his grandchildren's sporting events.  He retired from Asplundh Tree Expert Company.
Pat is survived by: his wife of 59 years, Marilyn; daughter Pam (Justin) Beaumier of Bonduel; daughter-in-law Mary Wudtke of Bonduel; grandchildren, Josh (Jen) Erb, Katie (Jeremy) Lee, Patrick and Drew Wudtke; great grandchildren Lexi and Maxton; 1 sister Nancy (Jim) Mitchell, 1 brother Gary (Barb) Wudtke and sister-in-law Eva Wudtke, as well as nieces, nephews, other relatives, friends
He was preceded in death by his father Harold Wudtke and mother Ida (Roland) Bloedorn, children Melanie and Phil Wudtke, siblings Donald Wudtke and Shirley Wudtke in infancy.
A funeral service for Pat will be held at 11:00 am on Wednesday, January 25, 2016, at St. Paul Lutheran Church in Bonduel with Rev. Timothy Shoup and Rev. Mark Palmer officiating. Burial will be in the church cemetery. Visitation will be held at the church on Tuesday from 4:00pm until 8:00pm and again on Wednesday from 9:30am until the time of the service. In lieu of flowers, memorials may be directed to St. Paul Lutheran Church and School, or a charity of your choice would be appreciated.