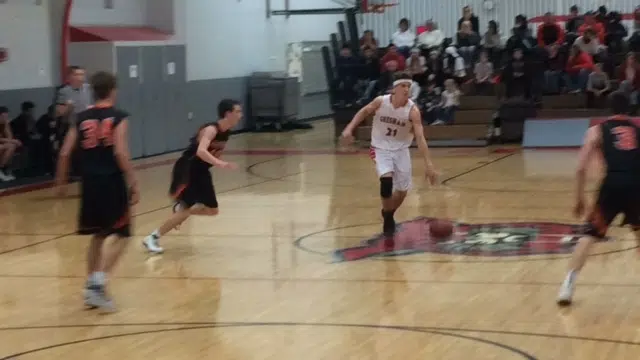 For the first time in seven games, the 8th ranked Gresham Wildcats topped Port Edwards in a CWC-10 Boys Basketball contest. Gresham used a big run in the second half to put away the three time defending Conference Champions 55-38. Gresham took a 26-22 lead at the half. The Blackhawks opened the second half by holding the ball and taking minutes off the clock. Gresham Coach Jeff Zobeck said they had to put a stop to that.
"We changed our defense and started putting pressure on them after they tied the game" said Zobeck. "We did not want the game to stay close to the end, so we took over."
Neal Cerveny led that run.
"Coach told us we needed to pressure and that is what we did, and it worked" said Cerveny.
Gresham started their scoring run, which including three straight steals and easy lay-ups by Neal Cerveny who ended with 23 points.
"That was a huge swing and momentum change for us"
For Cerveny and the seniors, this was the first time they beat Port Edwards.
"It is just another step towards winning Conference and hopefully the step we need."
Drew Haffner connected on 4 three point baskets and ended the night with 16 points. The Blackhawks were led by Ian Gibbs with 15.
The Wildcats win puts them in control of the CWC-10.