TCHDailyNews Sports Reporter Tony Bettack Says Work Environment Is Hostile For A Cowboy Fan
News and Sports Reporter, Tony Bettack suffered a depressing day at the office after the acclaimed Cowboy Fan was forced to work in a green and gold decorated office. This year, welcoming Tony to the News and Sports team, also offered a challenge, he is a HUGE Cowboy fan, making the News and Sports Office, an office divided. Bettack said the verbal attacks towards his beloved Cowboys were bad enough, but when the Sports Office became decorated with the colors of the NFC North Champions, he could not take it anymore.
"It really is a hostile work environment, not sure it is best for my productivity having to look at all of this," said Bettack. "You like to have nice calming colors, but Green and Yellow just clashes. It is not very nice to look at, but I have my little corner here, so the blue and silver kind of settles me down a little."
Why would somebody who has proven to make such good decisions in life choose to root for such a team? We don't know the answer to that, but company President Bruce Grassman said it best when he said he could would trust his number two pencil to pick the winner of the game.
"Are you from Texas?" Bruce asked. "No I am not," Tony replied.
"Oh, so you are just one of those idiots then," Grassman joked. "Even this pencil would make a better decision than that," said Grassman.
When Tony was asked about his choice of team support, he played the typical Cowboy fan America card.
"I am an American and the Cowboys are America's team," said Bettack. I know I have a lot of people around the country, in Wisconsin, and maybe even in Shawano, I don't know because I have not seen any other Cowboy fans here, but I know I am not the only one, so we are standing together strong solidarity."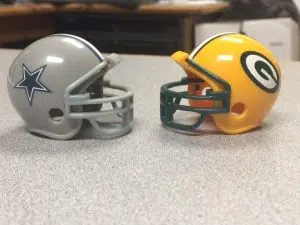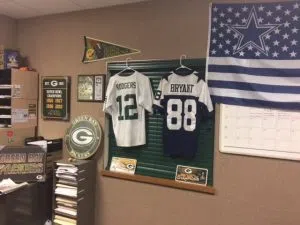 The News office was quickly decorated on Friday with tons of Green and Gold. Everything from  Jersey's to T-Shirts, to pennants reminding Cowboy Fans of all the Championships the Packers won, and even autographed pictures were brought in, and soon, the TCHDailyNews office quickly started looking like the Packer Hall of Fame. Bettack tried to get in the game, but two signs, a couple of Jersey's, and one large Blue and White Flag clearly showed, he lost that battle.
"I really underestimated by opponent, and he clearly got the best of me," said Bettack. "I would say it was a lack of preparation maybe, but you have to look out for those Packer fans, they will go all out."
In addition to the decorating war, which was won by the Packers, a bet was made live on the radio with some food and pride on the line. A packer win and Tony will be bringing in Texas BBQ and will wear a cheesehead or a Packer jersey. "That might actually make me sick to wear that," Bettack replied. If by some chance the Cowboys win, Sports and News Director Brad Williams will have to wear a Dez Bryant jersey, post a picture on his Facebook. He will have to bring in some cheese and also provide a cold beverage (after work) for the office Cowboy fan.
"I think my family and friends may disown me if they see that photo…Go Pack Go!" chanted Williams.
On Tuesday, after taking a day to recover, the representative of the losing team will be expected to take down all of their teams materials in the office.  Of course the office will have plenty of boxes of tissues for the loser, which Bettack said he has been preparing for just in case.
"It would hurt real bad if the season comes to and end with a loss to these guys," Bettack said with a tear in his eye. "I am not ready to handle that yet."
Regardless, it is always healthy to have a little rivalry in the workplace, and TCHDailyNews has a big one.
The Packers Divisional Playoff game can be heard live on Frog Country 92.3 FM.
On behalf of Packer Fans everywhere…….Go Pack Go!