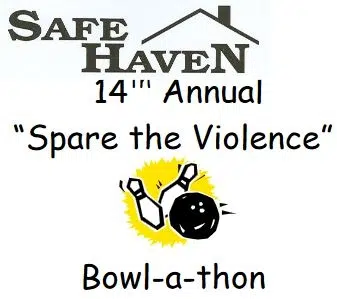 The 14th annual Safe Haven bowl-a-thon will be coming soon on Saturday, Jan. 21 at Lakeshore Lanes in Shawano. Sign-up is can be down now and the fee is $45 for teams. Registration will be the same day on Jan. 21 from 11:30 a.m. until 12 p.m. noon, when the bowl-a-thon begins.
If there are enough teams for the 9-pin bowling event, a second shift of bowlers will begin at about 3 p.m. The bowl-a-thon is a fundraiser for the Safe Haven domestic abuse shelter, and Shelter Supervisor Sue Dionne says they have high fundraising expectations this year.
"All it requires is a team of five, so what we're asking is that the bowlers go out and seek sponsorships," said Dionne. "We're challenging everybody this year, because it is our 15th anniversary, to try and raise at least $100 in sporsorships."
During Safe Haven's 10th bowl-a-thon, they were able to raise $10,000, which equates to about $500 per team. Dionne explains why this event is so helpful for the shelter.
"Our agency depends on fundraising," Dionne said quite simply. "This year we decided not to do one of our fundraisers, so we're really putting a push on the bowl-a-thon because we know it can be successful, but it can only be successful with the help of all of our teams and team members because they're the ones soliciting the sponsorships.
Because of those sponsorships, Safe Haven is also able to offer incentives for bowlers during the afternoon.
"The team that raises the most money gets a Luigi's pizza party," Dionne explained of the incentives. "We also have for anyone raising over $500, they go into a drawing for Charlie's County Market, a $200 shopping spree. Then we have a raffle with the 2016 laser autograph Packers football, so we have a lot of things they can earn with the different amount of sponsorship money that they bring in."
The money raised for Safe Haven goes towards the shelter, which provides a place to stay for victims of domestic violence or sexual assault. More information about the bowl-a-thon can be found online at their Facebook page, their website, or by stopping in at Safe Haven, which is located at 380 Lakeland Road in Shawano.