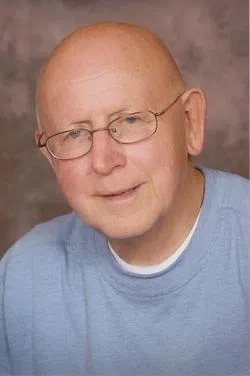 Percy G. Schwerke Jr. 83 of Shawano, passed away at ThedaCare in Neenah from injuries sustained during a fall on January 10, 2017, surrounded by his loving family. He was born Hiram Gass on July 19, 1933 to Hayden and Viola Gass.  His mother Viola died during his birth.  He was adopted by Percy and Rose (Sperberg) Schwerke on September 25, 1933.  Percy graduated from Shawano High School in 1951. He was in the U.S. Army from 1953 to 1956, stationed in Japan. Upon his return he attended Badger business school in Green Bay.  On June 8, 1957 he married Betty Cotter and they had 3 children.  He went to work in 1958 for WPS in Green Bay where he worked for 36 years in their data processing department.  He owned the Red River tavern for 9 years. On December 29, 1990 he was united in marriage to Agnes Fischer in Shawano. He was an active member of Peace United Church of Christ. He ran the food pantry at the church, and shortly after took over the Shawano County Commodities program, running both for 7 years.  He volunteered at SAFPARC in the resale store, and was on the board for 11 years.  He was a member of the Red River Sportsmans Club and the Red River Athletic Club, where he held several positions. He loved playing cards, and shooting pool at Red River tavern.
Percy is survived by: his sons, Mark (Jane) and Michael (Sue) Schwerke both of Shawano; his son-in-law, Travis Ploman of Mosinee; 6 grandchildren, Timothy, Andrew (Julie), Benjamin (Anna), Brandon, Catelyn, and Jordan Ploman; 2 great grandchildren, Aaron, and Max; a sister Arleen Meyers of Brea, CA; 4 stepchildren, Debbie (Richard) Skalitzky, John (fiancé Carmelita) Fischer, Shirley (Jim Lardinois) Pecore, Tom (Sharon) Fischer; a step daughter-in-law, Roxanne Fischer; 8 step grandchildren and many step great grandchildren. He is further survived by his dear friend Bill Zeimer whom he considered his brother.
Percy was preceded in death by: his wife Agnes; daughter, Jennifer Ploman; granddaughter, Erin Ploman; stepson, Tod; his biological and adopted parents; brothers, Oorin and Orville Gass; sister, Carol; his dear friends, whom he also considered as his brothers, Rip Buettner, and Lavellen Mehlhorn.
Funeral services will be held at 11:00 am on Saturday January 14, 2017 at Peace United Church of Christ with Rev. Marty Black officiating. Military honors will be conducted by the American Legion Post #117 following the service.  Inurnment will be at Salem Methodist Church of Red River Cemetery in the spring. Visitation will be at Swedberg Funeral Home in Shawano, Friday January 13, 2017 from 4:00 – 8:00 pm and again at the church on Saturday from 10:00 am until the time of the service.